Guide Your Money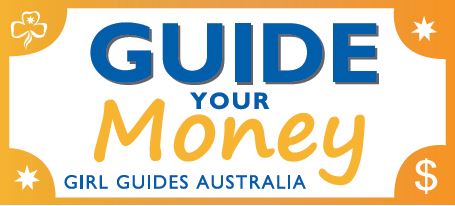 The NEW Guide Your Money Foundations Program for girls aged 7-12 years is NOW AVAILABLE from your State retail outlet.
Financial Literacy Australia – Key Supporter and Partner
To support this we have been lucky enough to receive funding from Financial Literacy Australia (FLA) – a non-profit organisation whose mission is to advance financial literacy in Australia.
For further information on the FLA funding for Girl Guides Australia click here. For a full list of other projects that have been awarded FLA funding please download the brochure here.
Importantly, this project will not:
Skill volunteers, girls, young women or anyone associated with the program to provide financial advice to the Australian Community or seek to develop Girl Guides as financial advisors
Be an formal education program and will not be bound by formal Australian Curriculum policies and structures
Be  a course on mathematics
Be a compulsory program for Australian Girl Guides or their leaders to implement
Seek to make or solicit judgments about what individuals expend their money on, but rather on creating the noted "pause point" where a conscious decisions on financial future is made and consequence is understood.
Want to find out more?
Please contact Girl Guides Australia via email program@girlguides.org.au