International Opportunities – Olave Program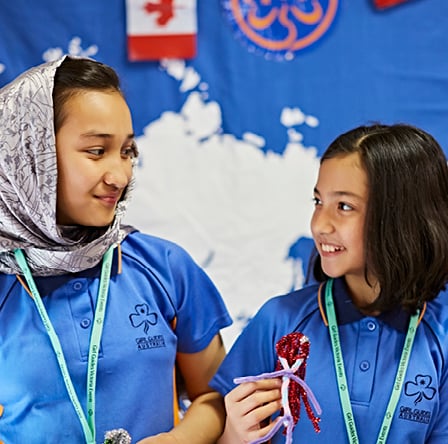 There are many fantastic international opportunities available through Girl Guides Australia or through the World Association of Girl Guides and Girl Scouts (WAGGGS) for Olaves.
GOLD
Guiding Overseas Linked to Development (GOLD) is an international service project for Olaves. The project is a
partnership project between two or more WAGGGS Member Organisations, aimed at developing Guiding in one of those organisations. The participating Member Organisations work together to determine what area of Guiding the recipient organisation wishes to focus on and the project is mapped out over a fixed term.
Girl Guides Australia has been involved in GOLD projects with the Girl Guide Association of Thailand (together with Girlguiding UK), as well as the Girl Guide Association of the Cook Islands (together with GirlGuiding New Zealand).
Being selected for GOLD is an incredible opportunity to learn about Guiding in a different country and to work closely with Guides from other Member Organisations. It is a chance to share some of the great parts of Guiding in Australia, as well as experiencing the local culture of the recipient organisation.
WORLD CENTRES
There are five "World Centres" (in England, Switzerland, Mexico, Africa and India), where girls and women from around the world can develop their leadership and life skills through international friendship, challenge, adventure and self development.
There are many opportunities for Olaves to work or volunteer at these World Centres, as well as to attend international seminars and events which are held regularly.
MORE INFORMATION ON WAGGGS WORLD CENTRES
"It wasn't until I spent four months as an autumn volunteer at Our Chalet in Switzerland that I fully realised how much Guiding had to offer young women outside of unit leadership roles."
Some of the specific events and seminars offered by WAGGGS are:
Juliette Lowe Seminar: mainly held at the four World centres, in rotation. Each Seminar has a different theme or
focus, though always focusing on international knowledge and leadership.
Helen Storrow Seminar: traditionally held at Our Chalet (WAGGGS' first World Centre in Switzerland) and addresses the most relevant issues in our global society such as the natural environment, leadership, self image, gender inequality and advocacy.
CSW: each year, WAGGGS sends a delegation of young women to the United Nations Commission on the Status of Women (CSW), an annual meeting in which UN members discuss issues around women and gender equality.
These opportunities are advertised via the WAGGGS website.
---
---
Share