Events
JOTA – JOTI 2022                               
SAVE THE DATE – This year Jota Joti takes place from 14-16 October.
JOTA-JOTI is an official international event of the World Organisation of the Scout Movement (WOSM) and Girl Guides are invited to participate each year.
This digital and radio event is an exciting opportunity to make friends in other countries without even leaving home.

JOTA stands for Jamboree on the Air and is the amateur radio element.
JOTI stands for Jamboree on the Internet and is the Internet element of the event and is what this presentation focuses on.
The Jamboree takes place simultaneously all around the world each year.
A different theme and set of activities are developed for each Jamboree. Guides can participate as a patrol, a unit or individually.
Jota Joti Leader Activities
Jota Joti Conversation Starters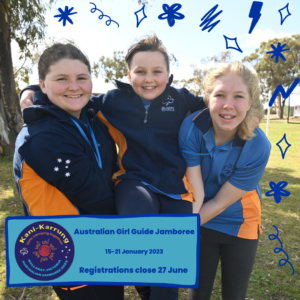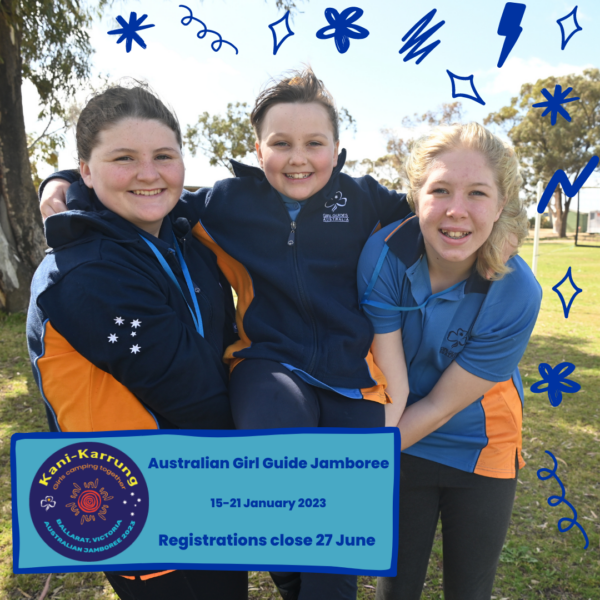 Dates: 15 – 21 January 2023
Venue: Ballarat, Victoria
Eligibility: Girl Guides aged 10-17 on 15 January 2023, Volunteers willing and able to facilitate an unforgettable week for our Guides
Jamborees are the opportunity of a lifetime, a chance to make lifelong friendships, challenge yourself and make memories forever. Please put the dates in your diary, share them with your Guiding friends and start planning on how you can be a part of something special.
Jamboree 2023 Facebook      Jamboree 2023 Instagram