World Thinking Day and the Monarch Butterflies
The magic of Our Cabana …
A couple of years ago Wendy and her Guiding friends visited Our Cabana in Mexico.  They celebrated World Thinking Day with Girl Guides and Girl Scouts and went on an amazing visit to the Monarch Butterfly Sanctuary.   Here is Wendy's story about her travels ….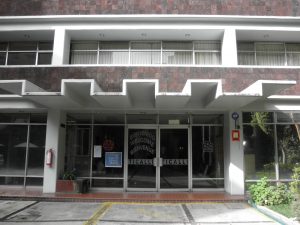 A few years ago I visited Our Cabana, the WAGGGS World Centre in Mexico, with two Guide friends.  Our reason for going was to experience World Thinking Day in another country with other Girl Guides and Girl Scouts. As a bonus, the event also included a visit to the Monarch Butterfly Sanctuary which was awesome to experience in person.
Mexico is an ancient city built on a shallow lake. It is such a vibrant, colourful city very rich in history.  Before travelling onto Our Cabana, we stayed at Ticalli, the Mexican Girl Scout hostel.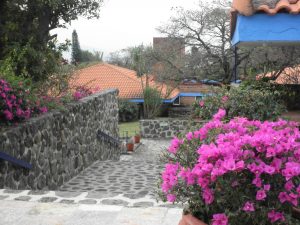 Our Cabana is set on spacious grounds and has various gardens such as the frog garden and the flag garden. It offers comfortable dormitory style bedrooms with shared common amenities.  There is a swimming pool, craft house, shop, Mixacalli meeting room (where most activities are held) and the dining room.
At Our Cabana we were thrilled to meet Leaders, Girl Guides and Girl Scouts from Wales, Canada, USA, the UK, Panama and Australia and to spend World Thinking Day together was a moving experience.  Sisters all joined with a common bond of a promise and World badge.
World Thinking Day was amazing.  The opportunity to share the day with the Girasoles (Gumnuts), Haditas (Brownies), Guias (Guides) and Guias Intermedias (Ranger Guides) we met at the Cabana made it even more special.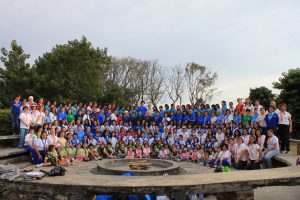 The visiting Leaders worked with the age group of girls with whom they worked with in their country.  We knew before leaving, we would be working with girls of Ranger Guide age, the Guias Intermedias.   We took empty egg cartons to play mancala buying beans in Cuernavaca, an inflatable cricket bat and ball, and Australian flag tattoos.
Cricket was definitely the favourite activity of the day. We played normal cricket and taught them French cricket.  The girls had great fun, with lots of laughter and cheering.
When talking to their Leader, we discovered the girls were from an orphanage and encouraged to join Guias.  Knowing this we went on to organise sponsorship of a girl from this unit.  For a few Australian dollars each year, we cover a girl's uniform, membership fees and camps.  Some of the girls have gone on to represent Guias Mexico at International events and trainings.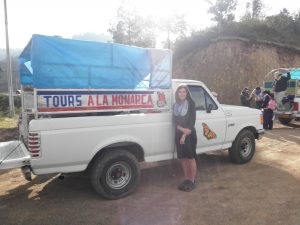 There are other day trips as part of the event to Taxco (Silver city), Cuernavaca, the pyramids of the Sun and Moon and Tepoztlan, and there are markets, markets everywhere to visit.  Any spare time was spent in the Craft House discovering and creating Mexican crafts.  We had to make our piñata for the closing ceremony. This involved a lot of chatting, getting to know other Leaders, singing and again much laughter.  The service project for this event was to entertain senior citizens for a morning.  Each country provided an activity suitable for them.  We taught them to make butterflies.  It was hilarious as they spoke no English and we spoke no Spanish but somehow, we managed to communicate.
The major event, of course, was our overnight visit to the Butterfly Sanctuary in Angangueo. The Monarch butterfly migrates each year from Canada, across the USA to this area.  The attraction is the milkweed which flowers in February/March.  The staff from Our Cabana travelled with us to make sure the trip all ran smoothly, to help with interpreting and assist us as needed.
It was a day's bus ride from Cuernavaca. Along the way we visited a few villages and spent the late afternoon exploring Angangueo.  We were up early the next morning for the climb by truck up to the sanctuary.   That was an adventure in itself!!  It was sooooo cold we were glad we had taken our thermals.  The Butterfly Sanctuary is at a high altitude and we were warned to take the walk easy to avoid any adverse effects.  Really you couldn't do anything else, but our Sanctuary Guide made sure everyone did make it to the top.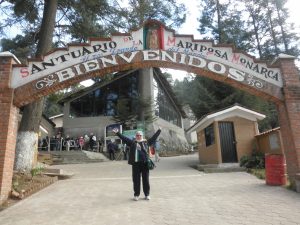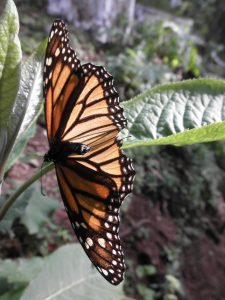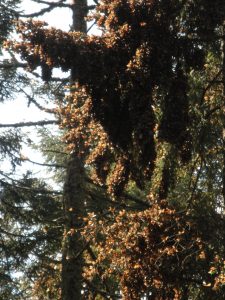 The sight of butterflies was spectacular ….   Sooooo many butterflies and soooo beautiful.  The trees were dressed in orange and black, laden with butterflies, to the point, where branches broke under the weight.  As the day warmed up, the butterflies took to the skies in another amazing display of nature.  Normally you wouldn't hear a butterfly, but in the Sanctuary, there were oh so many and it was oh so beautifully noisy!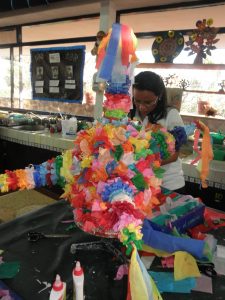 Our last night at Our Cabana was Fiesta night.  We were entertained by a Mariachi band, ate traditional Mexican food and, of course, played and broke our piñata.  When attending International events at any world centre, you realise there are no barriers and we really are sisters in Guiding.
This event was really a life changing experience for me.  I truly appreciate nature more and now am involved in community tree planting projects and doing bird surveys.
It was a dream come true for me to visit Our Cabana.  You know, when you walk through the Chief's Door into Our Cabana, it is like stepping into a calm, serene home.
The words of the Our Cabana song ring true. Honestly, they really do!
'Neath the Grand Sierra Madre, on a plain in Mexico, lies a beautiful Cabana, where Girl Scouts and Girl Guides go'………..
 Wendy Leabeater