Trefoil International Events
This page is dedicated to Trefoil Guild international events and will give news and information on international events that are specifically of interest to Australian Trefoil Guild members.
For all international events related to Guiding please click on the International Events button below.
Look here for details on international events for Trefoil Members ….
3rd ISGF Afric Region Conference 30 April – 4 May 2019
The Host Committee of the 3rd ISGF Africa Region Conference invites you to take part in the said Conference that will take place in Accra Ghana from 30th April to 4th May 2019.  The theme is "Discovering Potential in Africa, the role of National Scout and Guide Fellowships".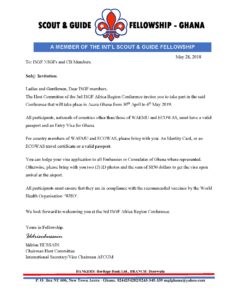 To apply to participate at this event please complete the Conference Registration form HERE
UK National Trefoil Guild Gathering at Swanwick 4-7 October 2019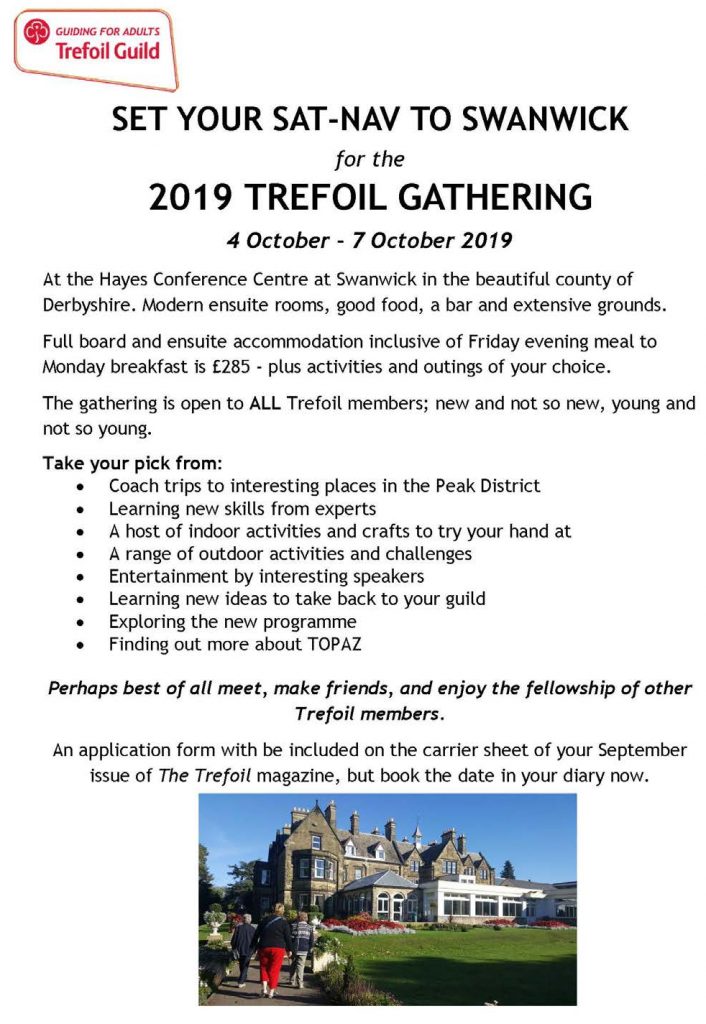 For the brochure (pdf) on the UK National Trefoil  Guild Gathering at Swanwick from 4 – 7 October 2019 click HERE
As previously advised via your STGA this event is now available for applications on the Girl Guide Australia International Website under the heading of "UK National Trefoil Guild Gathering". 
 An invitation has been received from the UK  for 2 (two) Trefoil Guild members to represent Australia at this event
Note:   This is an Australian T G  selected event. .
Date:   4 to 7 October 2019
Venue:   Hayes Conference Centre, Swanwick, Derbyshire, UK
Cost:    285.00 pounds
 Note the closing date for application from Trefoil Guild members in Australia is 1 November 2018.  Selection of the two applicants will be finalised and member/s will be advised within a fortnight after the above date.  (Note:  as at 5 October 2018 no applications have been received.)
Trefoil Special Week 2018 – Pax Lodge London
Come to Pax Lodge and spend time with Guiding friends old and new.
A five night opportunity for Trefoil Guild Members or any other adult members of WAGGGS to come together in the sisterhood of Guiding at an international World Centre.
For more information please download
Pax Lodge TG Special Week 7-12 October 2018
Volunteer for Our Chalet!
The ATG has received an important notice from WAGGGS on 18 January 2018 looking for volunteers to at Our Chalet …..
 "We're looking for volunteers at Our Chalet!
As 2018 begins, we are looking forward to the seasons ahead and we are hoping to host more volunteers than ever from a wide variety of countries. If your MO has not been represented at Our Chalet recently, make sure to spread the word. We are looking for volunteers who want to spend their summer with us in the Swiss Alps. The application deadline has been extended to 31 January 2018 so there is still time to apply!" 
This request for Trefoil volunteers refers to Summer 2018  from 23 May – 3 September 2018.   We have a volunteer at Our Chalet at the moment but we have no volunteers for 2018 or 2019.
For more information about volunteering at Our Chalet, go to https://www.wagggs.org/en/our-world/world-centres/our-chalet/volunteer/