Sustainable camping with Highgate Girl Guides!
"Camp was so much fun-- I loved it! The best part was making new friends."
Have you ever wondered what happens when Girl Guides go camping?   Here's an insider's account, from the Highgate Girl Guides three-day winter's camp. Held during the South Australian long weekend in June and how they ensured that the only thing they left behind were their own footprints.
Take 17 Girl Guides from aged 8-12 with 4 Leaders and 1 Carer and spend a weekend on camp and what do you get … an amazing learning experience filled with fun, friendship and adventure!
A Leader's tale …
Setting off from Adelaide, on Saturday morning the Highgate Guides drove an hour south to explore Douglas Scrub, a 21-hectare site owned by Girl Guides SA.  This is a beautiful property in McLaren Flat and we chose to camp at Hackett campsite, surrounded by trees and scrub, with a dam and a creek running through it.  No electricity but plenty of wood for fires to keep us warm.   However, being a first camping experience for many, they were pleased to see across the creek that the ablutions block did have electricity and hot water!
Before camp we held three preparation nights teaching Guides about bedrolls and packing, outdoor cooking and erecting and caring for tents on arrival so that everyone was prepared and ready to camp.  After setting up our tents, Leaders took the Guides on a walk around Douglas Scrub to orient everyone to where we were staying.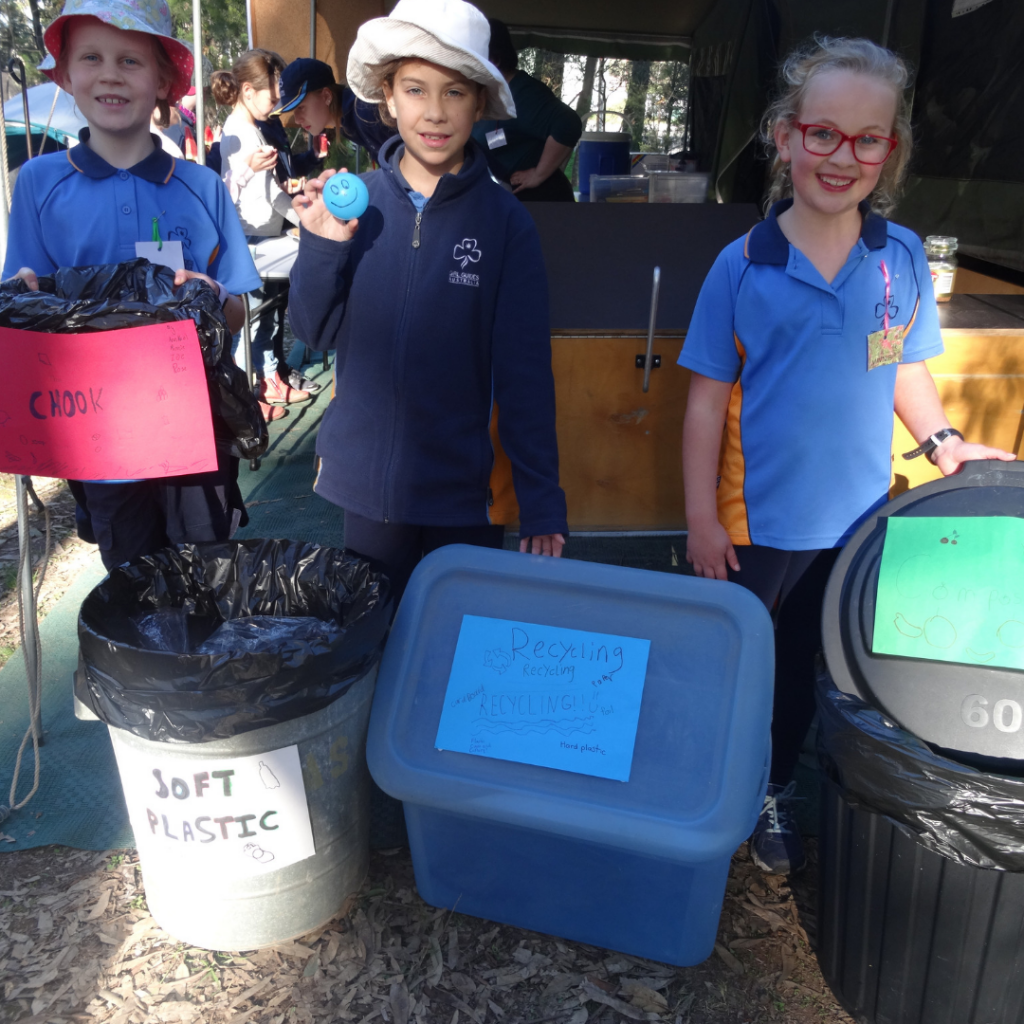 After this we discussed minimal impact practices, recycling and reusing and it seemed like a good idea to try and take recycling as far as we could.  The four patrols created signs for our recycling bins based on; one Guide's grandma had chooks (food waste), another's dad composted (food waste), all supermarkets collect soft plastics and general recycling can go in council recycling bins.
It was interesting to have to think about which bin to put items into.  Do chooks eat banana or mandarin skins?
"It's really cool how we are only using soft plastic bin, chook bin, compost bin and [general] recycling bins."
The camp was without electricity, only using fire and gas as our heat sources.  We had two fires, one for our 'hot water service' constructed from a large container with a tap at the bottom, sitting on four bricks to keep it stable and the other for heat and cooking in a cut down 44-gallon drum with legs.   New skills were learnt as the girls cooked on the open fire and on Trangias, including; tacos for lunch and for dinner, a BBQ with jacket potatoes roasted in the open fire, and apple crumble cooked in a Dutch oven! On the Saturday night the girls quickly learnt how to make chocolate steamed puddings cooked over the open fire for dinner.  Every night we had a rousing campfire featuring favourite camp songs.  Even though it was a new experience for many of the girls, they picked up the songs pretty quickly especially shouts like "Thunderation" and "There ain't no flies on us".
"I liked camp because I've made lots of new friends and learnt lots of new stuff and tried new things."
Sunday it rained justifying the wet weather gear requirement on the kit list.  However, this didn't dampen our camp spirit, and we had the campfires going all weekend.  During the morning we held a Guides' Own in a special place in Douglas Scrub called the Quiet Area and several girls contributed poems or activities.  In the afternoon compass skills were taught and a walk tested the new knowledge.   The weekend offered the girls the opportunity to work on a range of camp skills, so that by the end of camp, nine girls had earned their Camping #1.
"At this camp I really like how we had lots of time to get badges.  One Guide got the Girls badge by showing us how to do sign language.  Now I know how to say my full name and more stuff [using sign language]"
The weather dried up on Monday morning meaning it was great for packing up camp and we were able to take home dry sleeping tents.  After toasted ham and cheese sandwiches cooked in Jaffle irons over the open fire, parents and caregivers arrived – just in time to help take down the marquee and pack the trailer.  Then it was time to leave.  After our careful minimising of waste, we ended up only taking home 1/3 of a shopping bag of waste for landfill.  Everything else was recycled and reused …
"After our careful minimising of waste, we ended up only taking home 1/3 of a shopping bag of waste for landfill.  Everything else was recycled and reused …"
Camp is always a great time for learning about each other. We mixed up the girls so that they weren't in their regular patrols, and asked girls who weren't Patrol leaders to step up. Even though most of the girls recognised each other from being Guides, this was a great opportunity them to get to know each other better.  It was great to see new friendships form between girls and have an experience they will never forget."
"Camp was so much fun– I loved it! The best part was making new friends."
HIGHGATE GIRL GUIDES CAMP – JUNE 2019