The Project Hub
This page is a "hub" and conduit for members of Girl Guiding to understand the key activities of the National Office on behalf of the Federation, find out more information on how members can participate in our activities and keep up to date on progress of our national strategic projects.
All the projects detailed below have the full support of the National Board of Girl Guiding Australia and the National Management Advisory Committee which consists of all State Girl Guiding Executive Officers, the National Volunteer Managers for Program, Olave, International, Outdoor Activities and Learning & Development as well as the Chief Executive Officer of Girl Guides Australia.
The national strategic projects rolled out by Girl Guides Australia are undertaken based upon an agreement from across the Federation of Girl Guiding Organisations in Australia on the priority work needed to sustainably grow Guiding.
Girl Guides Australia – Project Management Process
To assist effectively managing and communicating national project activity, GGA has developed a project management process and framework.

The purpose of this process is to clearly define the stages of a project, support users to understand what is required at each stage, and provide for project teams a mechanisms for understanding what is required at what stage.
The Project Management Process (PMP) is a tool to ensure that national projects are well-run with regard to budget, time, resources, planning and communication.
It combines the five stage AGP Process ("Discover, Decide, Plan, Do, Evaluate") with aspects of internationally recognised project frameworks to create a process for Guiding projects which are of national significance. Therefore it will be used on projects that:
Have a high resource need (direct and indirect)
Are deemed a priority by the National Board and Member Organisations
Are formally registered on the National Business Plan
Link to the Strategic Goals of the organisation
This Project Management Process will help GGA improve the way it works with its stakeholders by being transparent, timely, inclusive and accountable.
This Project Management Process diagram describes only the key stages of a national project, and does not include the detail of what will actually be done in any given project. This will depend on the Action Plan of a specific project.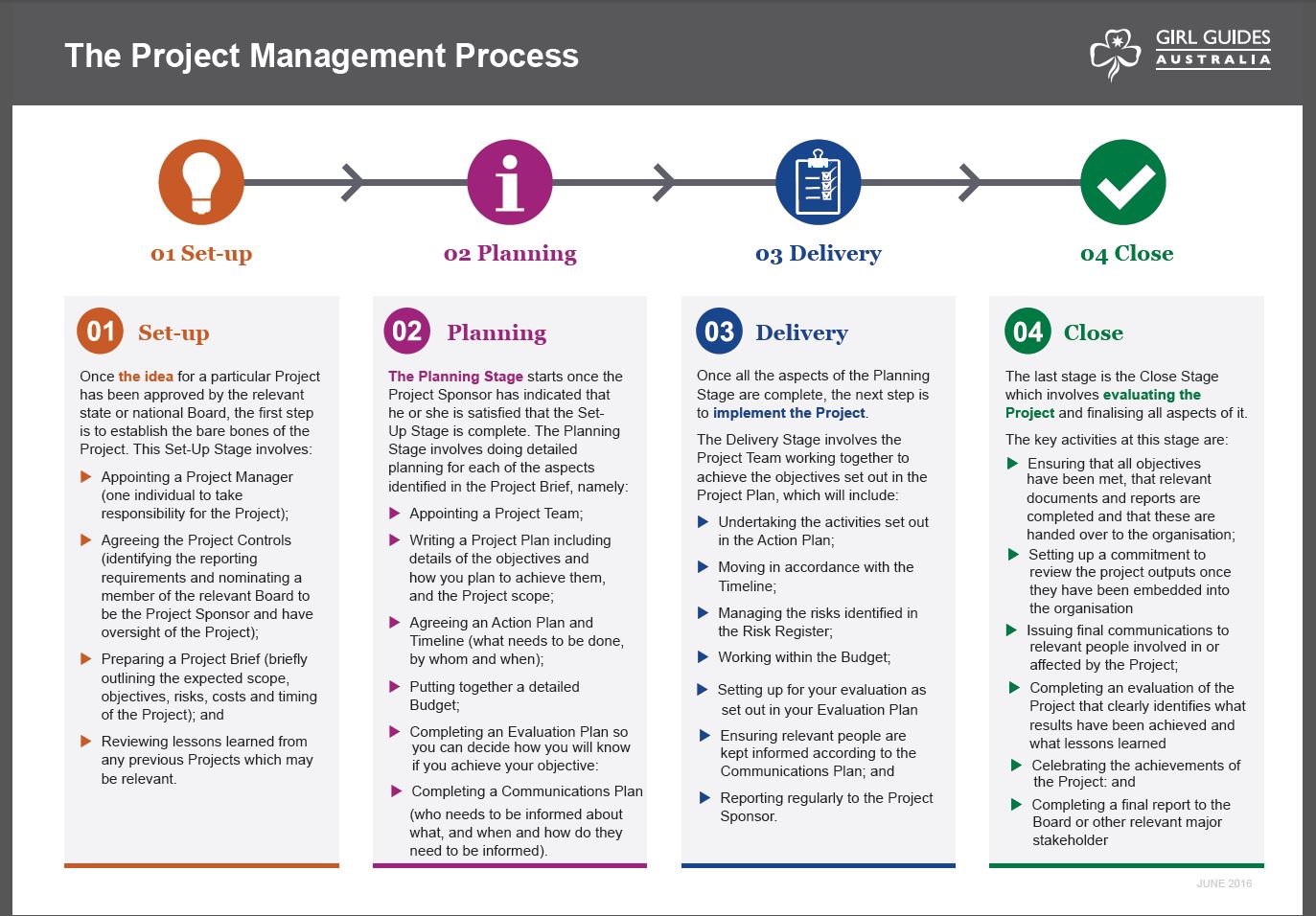 The Project Management Process was updated in June 2016 to enhance the evaluation component of our project management.
If you would like further information about the Project Management Process or have any questions or concerns please email us at guides@girlguides.org.au