Reflections on a Week at Macy
Facilitating at the Juliette Low Seminar USA Hub 2019
Rosie Waite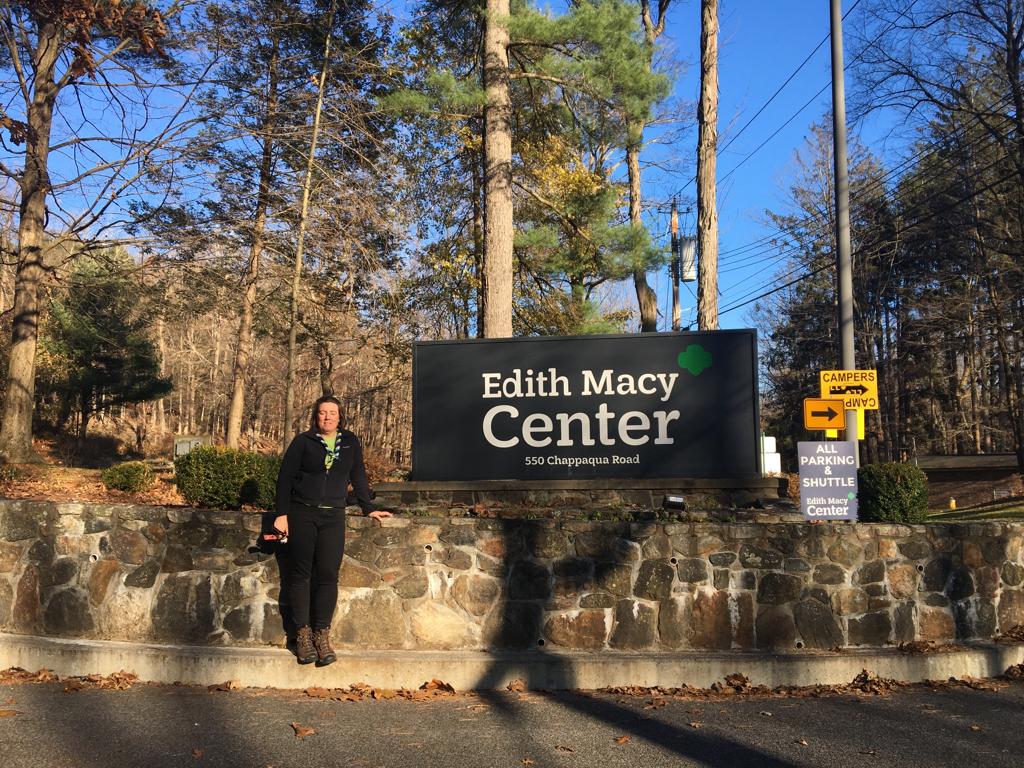 It was cold, oh so very cold, that morning we walked down the hill to the Great Hall at Edith Macy Centre, a USA Girl Scout property in a picturesque forested area outside of New York City.  Probably very different to the first time this space was used in 1926, where the story goes that workers were leaving out one door of the building whilst the delegates of the 4th World Conference of the World Association of Girl Guides and Girl Scouts (WAGGGS) were walking in.   Among those delegates was a Mrs Juliette Gordon Low.  And she is the very reason we are here this day, almost 100 years later, for the Juliette Low Seminar (JLS) in 2019.  Juliette Low took the concept of Girl Guiding from the UK and founded the Girl Scouts of the USA in 1912.  And since 1932 WAGGGS have run a leadership seminar for young women in her name.
Participants milled in the back room of the Great Hall, bravely taking off their coats to show off uniforms from their respective countries and collecting their national flags.  They passed solemnly into the main space in procession, no doubt shivering despite the enormous log fires that were burning.  And so, our seminar began.  This moment saw the realisation of a planning process that had started years previously with the brave decision by WAGGGS to run the JLS in not just one place but multiple hubs over multiple continents simultaneously.
My personal involvement began when I was tapped on the shoulder to apply to facilitate the event and attended a training at Kusafiri world centre in Uganda in 2018.  Being placed in the USA hub team I would, over the course of the next year, get to know my fellow facilitators so well, that when we finally got together it felt like a reunion of old friends despite only having met two of them in person.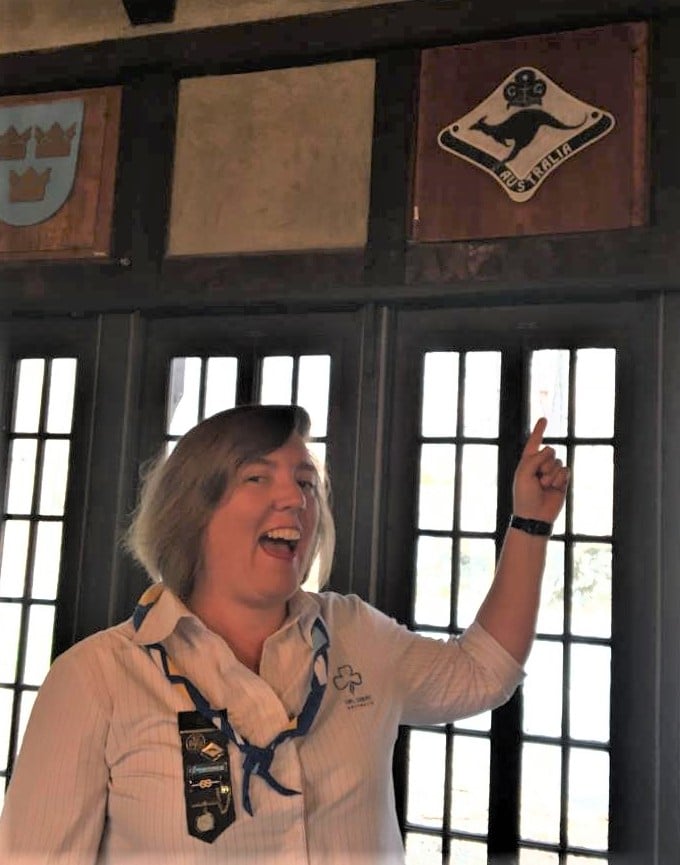 That moment in that cold, cold, auspicious place felt pregnant with possibility.  What would these participants bring to the process, how would they leave and what would they take with them?  We were responsible for creating an environment that they felt safe in and that would also challenge them.  A space in which they felt they could open up and share, but also that they could respect their fellow Girl Guides and Girl Scouts despite differences in politics, religion or culture.  The weight of that responsibility fell heavily on my heart during that ceremony, and then something caused me to look up.  There were plaques around the top of the windows, bearing country seals from the delegates to that World Conference in 1926, there was Belgium and France and lo there was a kangaroo, mid jump, the symbol of my country.  Australians had been here for that conference, and over the yawning gap of almost 100 years, I felt the support of those that had gone before.
The goal of this JLS was of global understanding, leadership and breaking barriers to gender equality. But these themes are not new, in fact, they are the central to the core of why we have Girl Guides and Girl Scouts in the first place.  These ideas are what spurned on our founders and what led to this movement reaching 150 countries with a membership of 10 million women and girls.  We are the next in a long line of women pushing to change, pushing to improve and pushing the world to get better.
Over the course of the week our participants shone.  Tentatively at first, they began to share their own experience and in doing so they learnt from each other.  They learnt how experience of leadership and barriers to gender equality in different countries can be so vastly diverse and, in turn, what we can take from that to apply to our own lives.  And then more confidently, they started to demand more time to share, more time to learn from each other.  We, on the edges, could see the change, could see how slowly they were building bridges and finding common ground.  Finding places where they were similar and embracing their differences with curiosity and care.  It was slow at first, but then suddenly there was a crystallising moment.  It happened, as so many pivotal moments do, at campfire.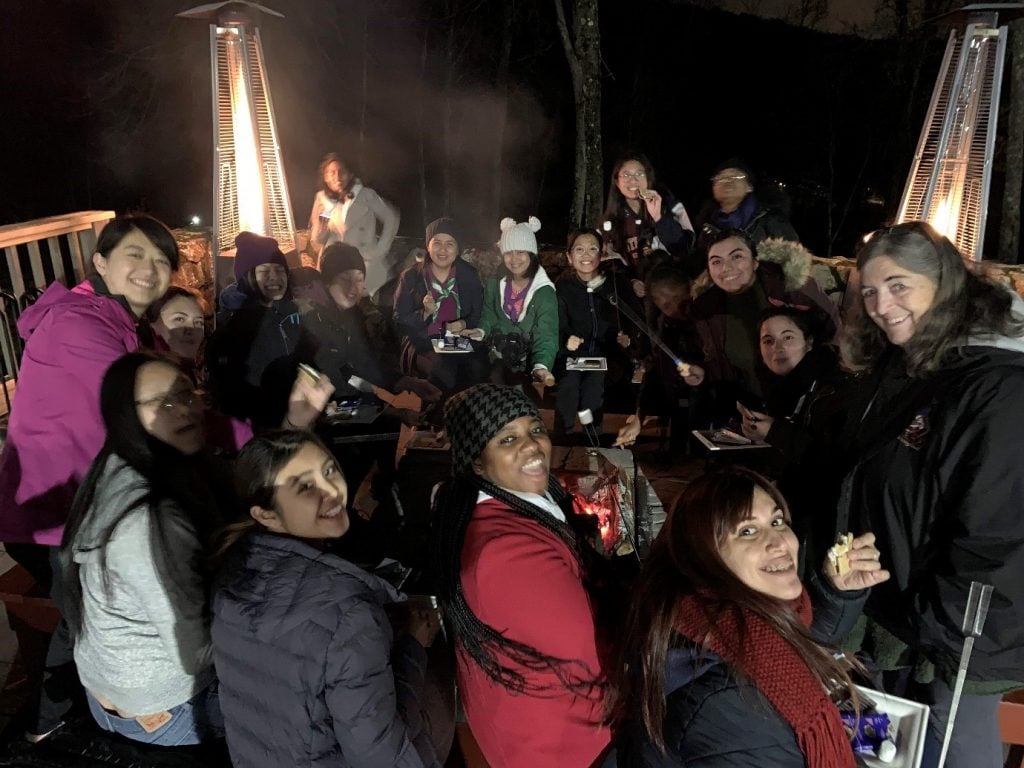 First, I must tell you of a long-standing campfire tradition in the world of Girl Guiding and Girl Scouting, and that is the sharing of ashes.  The tradition goes that after sharing a campfire, you wait till it goes cold and collect some of the ashes.  Then at the next campfire you add the ashes from the campfire before, thus creating a line of shared campfires.  And secondly, campfire, if you've never been, can be quite a collective spiritual experience.  As the old song says, "you'll find more meaning in the campfire's glow than you'll ever learn in a year or so".  So, there we were, having just experienced the quintessential USA Girl Scout experience of a s'more, one of our facilitators, Laura, poured in her campfire ashes.  She told us about their history and how they'd come to her, but most importantly, where they started.
The first ash was collected from a campfire conducted at the Edith Macy Centre for the 1926 World Conference, and that fire was lit by Mrs Juliette Gordon Low herself.  We had come full circle, over the course of many years and many campfires, here we were breathing that same air, singing songs and sharing time in that same place, pursuing the same ideals.
At one point after all the songs were sung, one of the participants, Julie from Taiwan, paused everyone, she wanted to say something.  She said she hadn't been to a campfire for a long time and being here at this moment made her miss it, tears started to roll down her cheeks and she told the group how supported she'd felt over the last few days and before we knew it, the entire group, all twenty of them, reached in for a gigantic group hug of support and care.  We facilitators and logistics team members stood around the edges of the space, and I looked at my fellow team members, "we helped make that" I whispered.  We'd achieved what we'd set out to do.  To create a space where people felt supported and could give their support, where bridges could be built, and friendships made that could last a lifetime.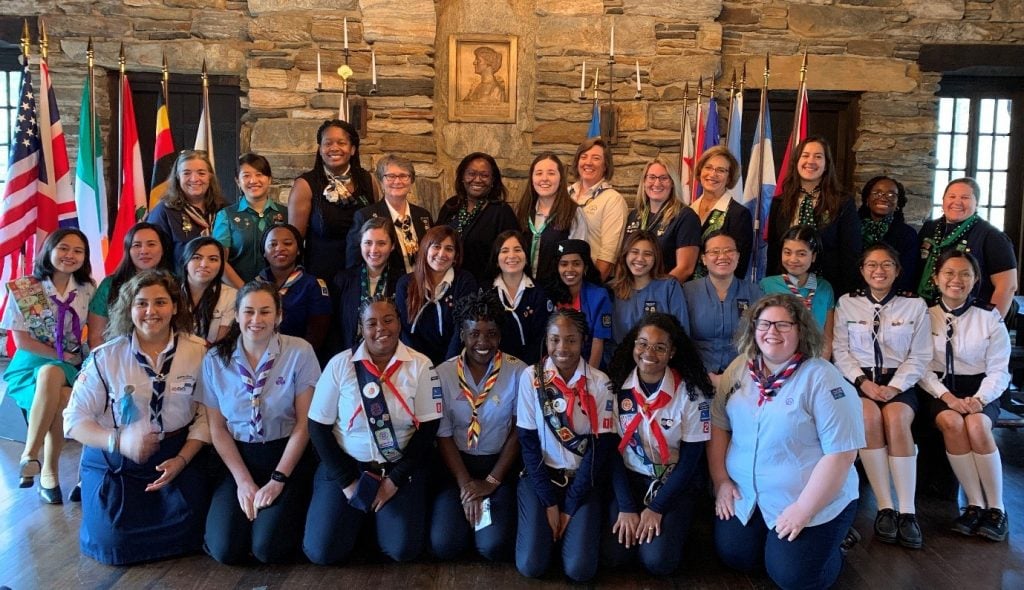 On returning to their respective homes, the participants from this event are tasked with a project, to reach 100 girls over the age of 12, with the messages of the leadership mindsets and breaking barriers to gender equality.  Participants presented their projects to the group, and their themes were incredibly diverse.  Everything from promoting healthy eating in Ireland to preventing type two diabetes to providing programming for an organisation in the Philippines that supports victims of abuse.  Standing there in that room I was blown away.  These participants, these young women, were about to disperse to the four corners of the earth, full of enthusiasm and world changing ideas.  I thought about that ripple, from Juliette Low lighting that campfire back in 1926, to Julie from Taiwan, to Sarah from Ireland and to Myka and Czieloh from the Philippines, and onwards from the people they reach.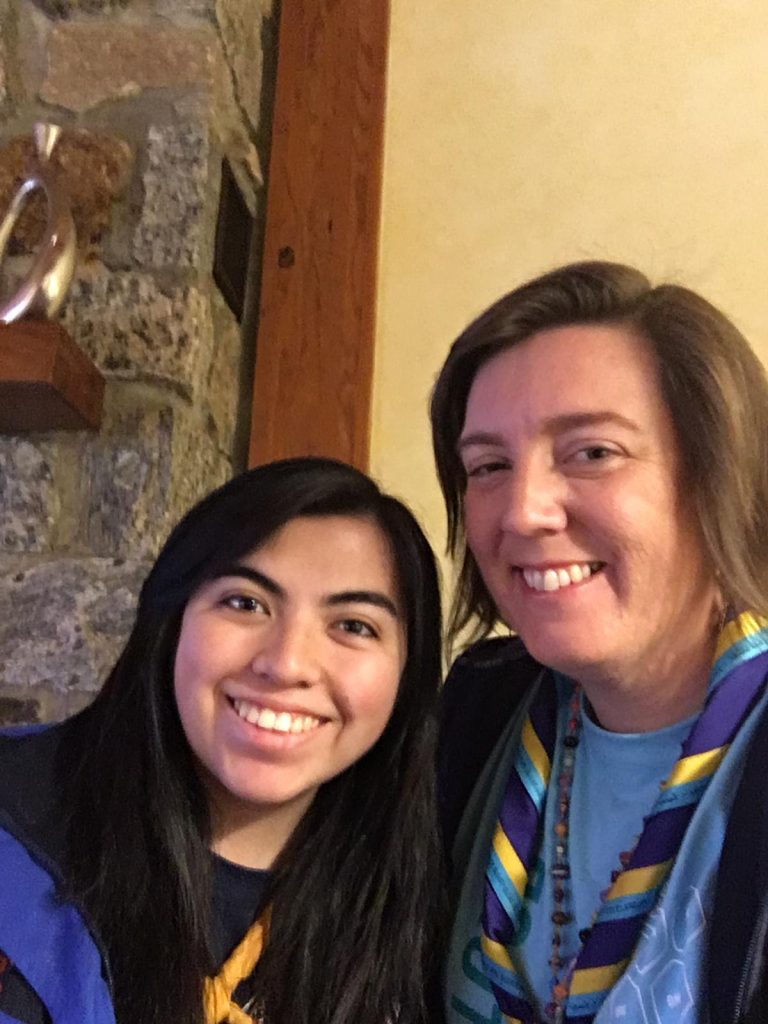 And as I sit back here, on the northern coast of Tasmania, overlooking Bass Strait, with its turbulent white caps, I can't believe that I've been part of this entire process.
I am so thankful to that person who reached out and tapped me on the shoulder to apply, so thankful to our amazingly tight facilitator team (Yu Ting Antonia from Hong Kong, Aisling from Ireland and Sandy, Brandi and Laura from the USA) and our amazingly supportive logistics team (Diane, Kathi, Anne, Adwoa and Emily from GSUSA), to Girl Guides Australia and Girl Guides Tasmania for supporting me to attend and to WAGGGS for having the vision to expand this project so vastly and for giving me an opportunity to facilitate.
Thank you, and while I might be one voice singing, we are 10 million and we are singing, and we can change the world.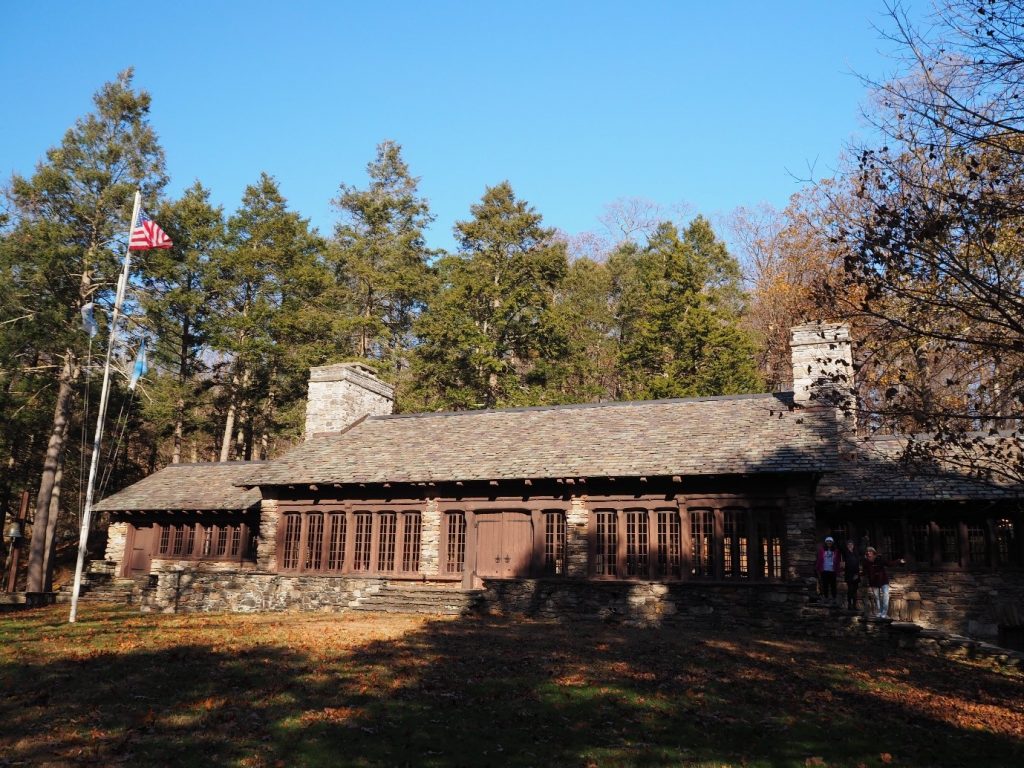 Edith Macy Centre, New York – home of the JLS Hub November 2019