Outdoors Resources
National Tree Planting
Planet Ark's National Tree Day is Australia's biggest community tree-planting event … for more information click HERE.
Wide Games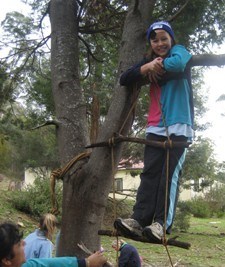 A Wide Game is a game best played over a wide outdoor area and involves a wide range of activities based on a theme or storyline to heighten your imagination. The theme and activities make the game exciting and loads of fun. The number of participants can be as small as one patrol or hundreds of Guides at a large camp. The time taken to play a wide game will vary from game to game and can last as long as you like. It could last for the length of the Unit meeting, for a few hours or even over a weekend at Camp!
Click on the Buttons below to download information on what Wide Games are, how to write a Wide Guide plus some examples of wide games that you can plan and play with another Patrol or your Unit.
Note that these ideas were written by older Guides at a National  Event a few years ago so why not let your  imagination run wild and make up your own Wide Games.   And if you invent a Wide Game that you think other guides would enjoy too, please send it to the guides@girlguides.org.au so we can share your Wide Game with other Guides and Leaders.
Outdoors Alternative Methods of Cooking
'Alternative methods of cooking' has been developed for Leaders by Girl Guides Victoria who are keen to share these skills. See below to download the 'Alternative methods of cooking' resource.'
Environmental Key Dates
The following is a link to international and Australian environmental key dates:
Lightweight Camping and Hiking Resource
The following is the resource for Lightweight camping and hiking:
The following documents are extracts from the Lightweight Camping and Hiking Resource document.  Please click to download the extract you require:
Camping, Canoe and Kayak,Rowing and Sailing Modules
If you are interested in exploring the Outdoor Modules which cover camping, expeditions, canoe and kayaking, rowing and sailing please click on the link below.
Boating Log
If you are interested in obtaining a boating log please click on the link below.