Clean Up Australia Day
Clean Up Australia Day 2020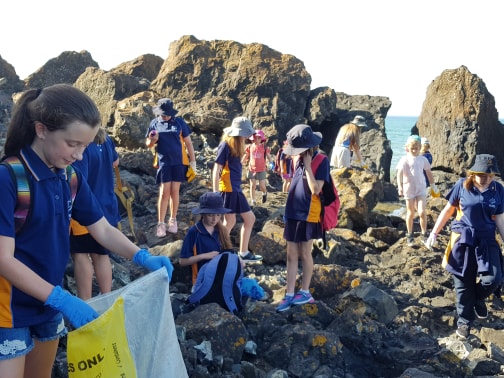 Clean Up Australia Day 2020 is on Sunday 1 March 2020 - celebrating 30 years!
Clean Up Australia are looking for volunteers for Clean Up Australia Day – and Guides can help.   As Clean Up Australia say on their website:
"Australia has one of the best natural landscapes in the world. From our pristine beaches, ancient forests and flourishing sealife, we have some of the most unique flora and fauna.  But the rubbish we create through mass consumption is choking our streets, beaches, parks, bushland and waterways.  And along the way it's killing one of our best assets : nature. We are all part of the problem – but YOU can also be part of the solution."
There are a number of ways to be part of Clean Up Australia Day. Whether you want to go out and about and do a Clean Up or donate to the organisation, get involved today.  You can find out more information about Clean Up Australia Day 2020 on the Clean Up Australia Day website and see below for details how to join in.
Get involved!
Create your own site or find a site to volunteer at, every action makes a difference. The 3 steps below show you how easy it is to make Clean Up Australia Day a success:
1. Find or Create?
All you have to do is go through the registration process, selecting your Guide Unit or Group as a Youth Group option (this will veto the requirement for a Waiver to be signed online) and Clean Up Australia will send you all the materials you need.
2. Tell your friends
Whether Guides created a new Clean Up Site or joined an existing one, Clean Up Australia will offer you a set of tools to promote it to your friends and family. Spread the word and make your Clean Up Day even more successful.
3. On the day
Last but not least, conduct your Clean Up. Make sure as a Site Coordinator you have organised all necessary arrangements and as a volunteer you show up on Clean Up Australia Day. Have lots of fun.
For more information head over to the  Clean Up Australia Youth Resources page.
"We all have an impact on the environment we live in through what we use, reuse, throw away and pick up. So we can all make a difference by thinking of these things every day to benefit our environment and community." Ian Kiernan AO, Founder of Clean Up Australia  Ian also adds; "Clean Up Australia Day is a fantastic, fun event where everyone in the local community can come together and pick up rubbish to conserve the environment. Just one piece of rubbish can make a difference and ensure your favourite local beaches and parks stay clean for the future,"
Fast Facts about Clean Up Australia Day:
Australians are among the highest producers of waste, per person, in the world.
An estimated 7 billion cigarette butts end up in Australian waterways, streets and parklands each year.
80 million plastic bags are dumped in Australia each year – creating a serious threat to our precious marine life.
Recyclable material makes up almost 80% of total household waste in Australia.
For over two decades, Australians have devoted more than 27.2 million hours towards the environment through Clean Up Australia Day and collected over 288,650 tonnes of rubbish.
Clean Up Australia Day is the largest community event of its kind in Australia
Guides identified Climate change as their number one global issue of concern in the Girl Guides Australia, Guides say…Project with water and environment issues as their number one national issues of concern.
Guides are encouraged to participate in CUA events and to register your events each year on the CUA website or calling 1800 CUA DAY (1800 282 329).
All registered Guide Units will get access to the kids clean up kit. To minimise waste CUA will give each Unit a logon code so they can download these resources from the CUA website. Alternatively you can request them by phone.
"Recycling is a simple but effective way to reduce greenhouse gas emissions," Mr Kiernan said.

"Every aluminium can that is collected and recycled saves 767 grams of carbon dioxide, which is the equivalent of 1 wheelie bin of greenhouse gas emissions."

"Climate change is the greatest challenge facing our and future generations. I encourage everyone to take action by registering a Clean Up Day site. Let's start today to save tomorrow."