Environmental Challenge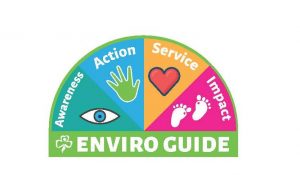 The Environmental Challenge is for all members.  Based along the same lines as the hugely successful Outdoors Challenge, EnviroGuide is focused on Awareness, Action, Service and Impact.   It encourages Guides to get outdoors and explore their local environment, and to learn how to take care of it.
A program resource "the Enviro Guide Tacklebox", has also been developed by Barbara Harrisson on behalf of the National Outdoor Activities Committee.
Download the resources here:
GGA Environmental Statement
The environment has always played a part in Guiding, and in return Guiding has always advocated for and implemented good environmental practices.  Girl Guides Australia is releasing a Position Statement on environmental sustainability to strengthen our commitment to the environment and to inter-generational equity.
The Girl Guides Australia Position Statement on environmental sustainability provides a basis from which members can undertake advocacy projects and activities on environmental sustainability concerns, explore their environment through a proven non-formal education program, and to discover their potential through challenging oneself in the outdoors.  Our members consistently provide feedback that environmental sustainability is important to them, and Girl Guides Australia looks forward to members being empowered to take action for a better world.