Let's look at going plastic-free!
Find out what you can do to help reduce plastic waste ...
In plastic-free July, take a minute to think about the plastic straw you are using, the pre-packaged fruit and vegetables or the plastic wrapped sandwiches for your lunch. What will happen to all this plastic once you throw it away?
Our individual plastic waste becomes part of the global plastic waste crisis.   It endangers wildlife and pollutes our environment. But there are ways we can help to reduce plastic waste and it only takes small steps to start making a change.
Look at the some of our suggestions below and start by choosing the ones that you can do.   Every way you choose to reduce or recycle plastic makes an impact – together we can all make a big impact so read on and see what you can do!
Upcycle, swap or recycle – Instead of heading to your shopping centre why not check out your local second hand, charity and opportunity shops or online second hand shopping platforms to find the next fun item for your wardrobe, bookshelf or toy box.   You will be surprised at the quality and choice of clothing, books and toys you can buy.  Alternatively, you could have a 'swap night' at your Guide Unit where you could swap a book, a toy or a game with other members in your Unit. One person's last read could be another's new adventure.  When you tire of something, make sure pass it on to your local charity shop or organisation or alternatively set up your own online store and invite your friends to join in – remember if you're under 18 you will need your parent or caregiver's permission and assistance to sell online.
Reusable water bottles – when heading to school, the park, your next camp or just a day out make sure to take your water bottle. If you are out and have to buy a single use plastic bottle, pop it in the recycle bin when you are finished with it.
Toothbrushes – Most people go through several plastic toothbrushes a year all of which are thrown out and become plastic waste so switch to a bamboo or corn starch toothbrush; they are biodegradable, environmentally sustainable and do not pollute the environment.
Microbeads – Make sure to check the labels of your skincare, body care and cleaning products. Microbeads are used in things such as body washes, hand washes and cleaning products, and are tiny beads made from plastic. They run down the drain and are no fun for waterways and marine and aquatic life.  Some products use natural microbeads so make sure to read your labels  before you pop it in your shopping basket.
Ice cream – Instead of choosing a cup with a plastic spoon, buy your ice cream in a cone (waffle or wafer your choice!) so that way there's no plastic waste as you get to eat the container too!
Straws – Choose a paper one or see if you can go without a straw. Each plastic straw is used for around 15 minutes and then thrown away. Plastic straws are a huge contribution to plastic waste in our environment.  When you go to your local café and there are not paper straws, politely request the owner looks to invest in them.  The more we ask, the more change we can create!
Fruit and Vegetables – who needs fruit and veg in a bag? Where possible select your fruit and vegetables from the loose grocery section to avoid unnecessary plastic packaging.
Takeaway Drinks – Buy a re-useable cup and take that when you get your takeaway drinks.  Cafes are happy to fill up your own cup and it saves them having to pay for single use disposable ones.  Good for their business and even better for the environment.
Recycle your plastic bags and packaging – most grocery stores now have bins for recycling plastic packaging. Each week collect all the plastic packaging into one bag and then drop it off in the bin on the weekend. You will be amazed by how much plastic single use packaging accumulates in just one week.
BYO bags – Use your own shopping bags.  You can either buy – or sew – environmentally friendly fabric bags. You can also customise them by drawing or decorating them with glitter pens, beads, the possibilities are endless. Who said a shopping bag had to be boring?!
These are just starting suggestions to get us all thinking about how we can make small changes in our lifestyles to make big changes for the good of our environment.
Share what you are doing to help our environment with family and friends and …
LET'S ALL GO PLASTIC FREE … THIS JULY AND BEYOND!
Download your "How to Reduce Plastic Poster' HERE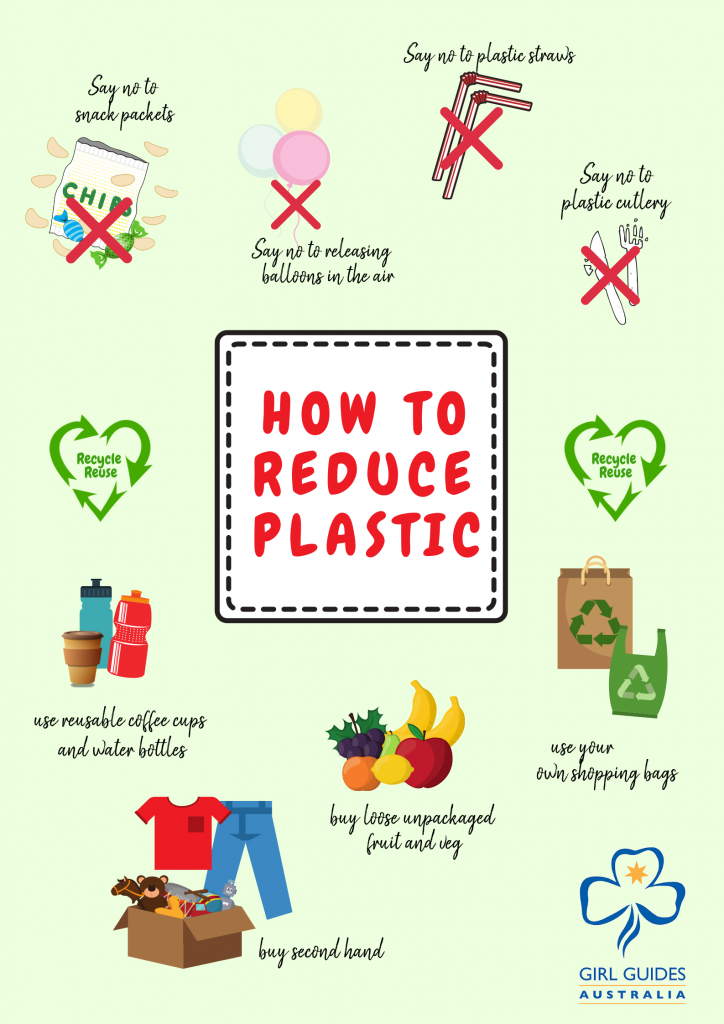 PS.  Share your suggestions and tips on how to go plastic free in the comments below.