Juliette Low Seminar – Applications CLOSED
EDITED:   Thank you to all those who have applied to participate in the Juliette Low Seminar later this year.  Applications are now closed.  Everyone who has applied will be contacted in due course.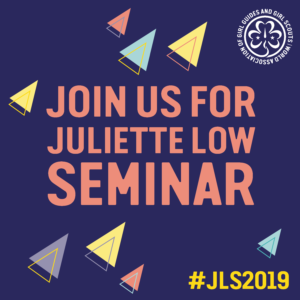 JULIETTE LOW SEMINAR 2019 – APPLICATIONS CLOSED
Please note that applications have closed so the information below is for reference only.
Aged 20-30?   Then apply now to be part of #JLS2019 – applications close 18 January 2019!
Girl Guides Australia is looking for a number of young women to attend the Juliette Low Seminar (JLS) in global hubs both in Sydney, Australia and abroad in 2019.
JLS has been running since 1932 as WAGGGS' flagship international leadership event. It started as an opportunity to promote international friendship and now empowers young women to take the lead in their lives, communities, national organisations and beyond.
This event is back in 2019 and it's bigger than ever. For the first time, the Juliette Low Seminar will connect the world, bringing 1,000 young women together in up to 20 locations around the world, connected through technology.
Throughout the 6-and-a-half-day programme participants will explore how they can actively tackle gender barriers to leadership, and act on their values to bring positive change to their world. After their return home, each JLS participant will, empower 100 girls aged 12 – 18 with leadership practices to build their confidence as everyday leaders.
The programme has two parts:
Part 1: Attend an international event for 6 and a half days with 40 – 60 of your Guiding peers; explore ways to break gender barriers to leadership, develop your own leadership practice and create a plan to reach 100 girls in your local area – all whilst having the adventure of a lifetime.
Part 2: Use your plan to complete your leadership project once you return home, share your knowledge and make an impact.
Girl Guides Australia is delighted to be hosting one of the international hubs in Sydney providing greater opportunities for participation by its members.
Participants will select their preferred locations, and then WAGGGS will match participants to a suitable location.
Being flexible and adaptable is a part of the process. Not knowing where you may end up going is also a part of the adventure!