JOTA-JOTI 2018 BADGE COMPETITION
Join in this year's JOTA-JOTI Badge Contest!
Competition open now – entries close 16 July 2018.
The contest is to design a logo that will be used as the official Australian badge for JOTA-JOTI 2018.   JOTA-JOTI is the largest Scouting and Guiding event and has over 1 million participants every year.
The theme for JOTA-JOTI 2018 is "Life on Land – United Nations Sustainable Development Goal 15" – further information on the theme is at: http://jotajoti.info/2018-jota-joti-theme/   The logo design should help to portray the theme.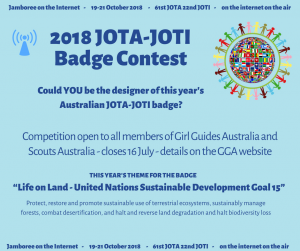 Your design must include
The official title: 61th JOTA – 22nd JOTI (may be expanded)
Year:    2018
The word or image indicating Australian badge
The Scouts Australia and Girl Guide Australia Emblem
Size of the design
Your design must fit in to a space of 6cm x 6cm.
The size of your file (.png or .jpg) should be below 3Mb.
Be creative and original
Create your own badge design.  Do not copy previous ideas as designs which contain copyright images, graphic elements from previous years or artwork coming from clip art will not be considered.
IMPORTANT: Please note that designs which do not respect the rules will not be considered for the final selection.
Submitting your entry
Entries can be submitted up to midnight 16 July 2018.
Please submit your design by downloading and completing the entry form available HERE and emailing your design and completed entry form to: communications@girlguides.org.au
* Entrants under 18 years as at 16 July 2018 need approval from a parent or guardian.*
RULES:
In submitting a design the entrant agrees that the design becomes the intellectual property of the Scout Association Australia, and that they surrender their rights to the design.
Those entering the contest must be a registered youth member or Scout Association of Australia or Girl Guides Australia. Please provide your membership number with your entry. Contest Details
What happens next?
A Short List will be drawn up and the winner and runner-up will be selected by a specially selected panel.
The designs chosen will be:
Compliant with the general rules above;
Adhere to technical constraints specified above; and
Relevant to theme.
The winner
The winner will be chosen based on the following criteria:
Composition,
Functionality,
Creativity,
Technique,
Originality,
Visual appeal and
Overall impression
The winner will be announced in July 2018.
Scouts Australia graphic designers will adapt the design and adjust the logo for the final production of the JOTA-JOTI badges.