ISGF – NSGF
The International Scout and Guide Fellowship (ISGF) is an organization for adults, in support of Scouting and Guiding. Based on the Scout/Guide ideals, its essential aim is to assist its members to maintain the values learned in the youth movements, in a perspective of active support of the World Organization of the Scout Movement (WOSM) and the World Association of Girl Guides and Girl Scouts (WAGGGS), of service within their communities and of continuous personal development. ISGF is open to former members of WOSM and WAGGGS and to adults who did not get the opportunity to be Scouts/Guides at early age and to be active Scout/Guide leaders.
National Scout and Guide Fellowship of Australia – NSGFA
Australia's Fellowship is the National Scout and Guide Fellowship of Australia and was accepted as a full member in 1961.
The Aims of the International Scout and Guide Fellowship are to encourage its members:
to personally keep alive the spirit of the Promise and Law as laid down by Baden-Powell, Founder of the Scout and Guide Movements.
to bring that spirit into the communities in which they live and work.
to actively support Scouting and Guiding in these communities, in their countries and worldwide.
NSGFA represents three constituent organisations:
Baden-Powell Guild of Australia
Trefoil Guild of Australia
St Georges Guilds in Australia Inc.
The NSGFA Executive is the administrative body and consists of three representatives from the Baden-Powell Guild and three representatives from the Trefoil Guild. The Executive is rotated to a different State every three years.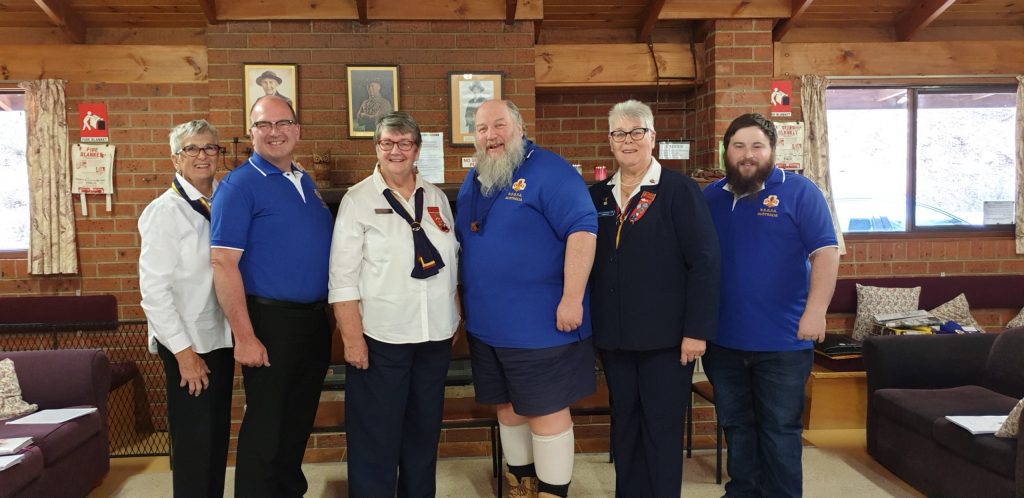 NSGFA Executive 2020
From left to right: Kaye Reeves (Secretary), Richard Stuart-Smith (International Secretary), Marcia Andrews (Chairman), Greg Davies (Vice-Chairman), Rhonda Wiedemann ( PR and Newsletter), Llewellyn Phillips (Treasurer)
Reports
To access current NSGFA reports go to the NSGFA website: http://afofsag.webs.com/
National Scout & Guide Fellowship Australia Newsletters
NSGFA September 2019 click HERE
NSGFA Autumn-Winter Edition 2019 click HERE
NSGFA Summer Edition 2018 click HERE
To access the NSGFA Newsletters use this link: http://afofsag.webs.com/asiapacificregion.htm
International Scout & Guide Fellowship  Newsletters
ISGF August 2019 Newsletter click HERE
ISGF December 2018 Newsletter click HERE
The ISGF 11th Book of Projects 2017
The 'Book of Projects' is produced by ISGF to highlight the enormous diversity of projects undertaken by members.   The 11th Book of Projects 2017 is now available to download as a pdf here