JAMBROWNEE – the inaugural camp for young Guides
You are never to young to travel with Girl Guides as Sofia discovered when her mother, Jenny booked them into the inaugural Jambrownee Camp held in England earlier this year.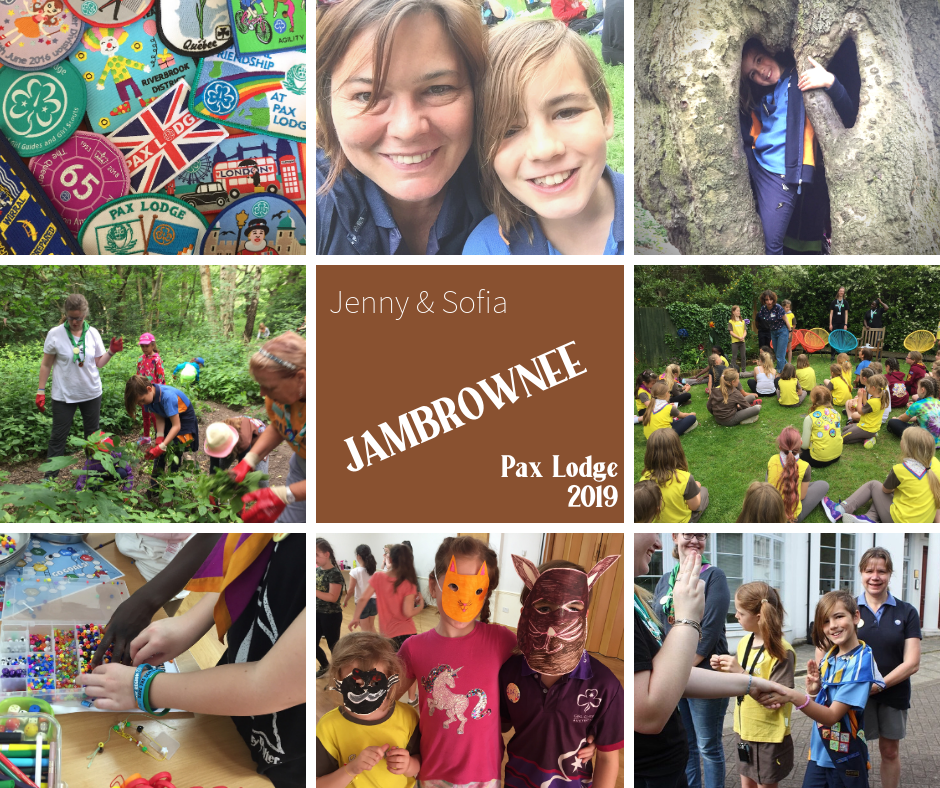 In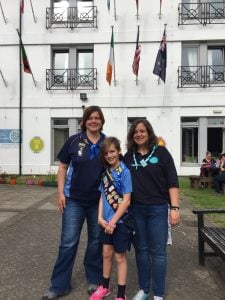 May, Sofia and Jenny travelled to Pax Lodge – one of the five WAGGGS World Centres – for the weekend camp for Brownies* aged 7 -10 years old.
Arriving there for the first time, they found to be exciting and emotional as finally seeing the white façade of the building with the international flags flying was a very special moment.
Each room at Pax Lodge is named after a different country or UK county so on checking in as a mother/daughter unit, both Jenny and Sofia found it amusing that as Australians they were staying in the 'New Zealand' room!
"This was my first international Girl Guide camp. I was proud to represent Girl Guides in Australia."   
– Sofia
Most of the attendees, made up of about 50 girls and 15 leaders, were from England but several Girl Scouts from the USA – then based in Paris – had made the trip across the Channel.  Volunteers at Pax Lodge came from Canada, New Zealand, Nigeria, USA and Zimbabwe and Jenny and Sofia enjoyed hearing their personal stories.
"It was fascinating to see how Guides from other countries do things differently, and yet often the same. Uniforms, badges, songs, games all demonstrated the differences, but the symbols including the World Badge, left handshake and salute were the same for everyone."                                                                               – Jenny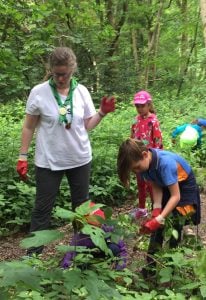 The focus of the camp was on the environment (air, water, land, animals) and the UN Sustainable Development Goals and Yunga biodiversity badge activities.
Hiking to Hampstead Heath, a large park providing a natural habitat for wildlife in the centre of London, the Brownies learnt to orienteer using paper maps and then participated in helping the environment by weeding.
On the Saturday, Safari Pete visited the Jambrownee with an unusual mix of rescued animals including a tarantula, a snake, two meercats, a barn owl, a scorpion, an Australian lizard, an Australian frog, a monitor and a baby crocodile showing the Brownies the importance of caring for animals.
Part of the camp activities involved working for the Pax Lodge Challenge and Sofia was thrilled to earn her Pax Lodge pin which she received at the final flag ceremony.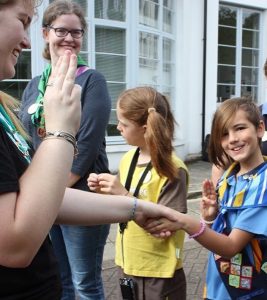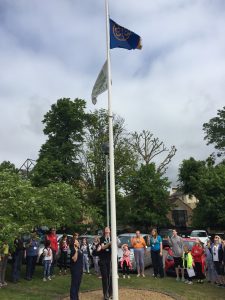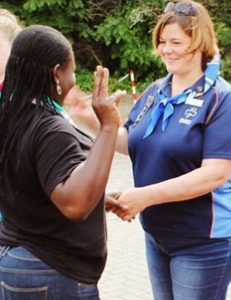 However not only did she enjoy taking part in the challenges, Sofia also had fun creating artworks, singing round campfires, games and an evening disco with a DJ!
"We had a campfire where Mum and I led some songs. Because we were inside, the campfire wasn't real, it was inflatable. I led the song called 'Flea' all by myself."                                                                                                                                                                               – Sofia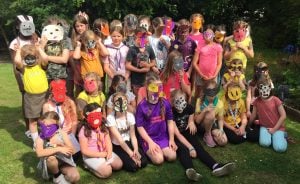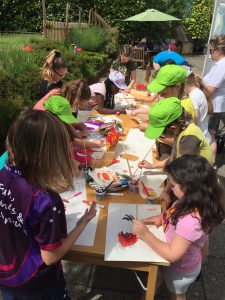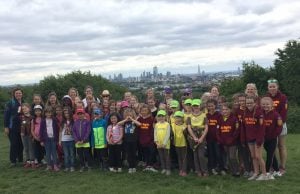 Both Jenny and Sofia thoroughly enjoyed  Jambrownee and their stay at Pax Lodge.  Sofia loved the camp and found it "super fun" and made a lot of new friends from around the world.
"It was sad to say goodbye. I loved the camp [and] I would go to another camp at Pax Lodge because it was great fun."                                                                                                                                                                              – Sofia
Jenny thought the camp organisation was fantastic and the Senior Programme Coordinator very welcoming and accommodating.
"As a leader I greatly enjoyed the camp. Being indoors, fully catered and run by the Pax Lodge staff and volunteers meant that I didn't have any of the usual responsibilities one has at camp. Supervising, supporting and encouraging the girls with challenges and following the schedule was all that was required. That allowed me more time to socialise with other leaders and make new Guiding connections,"                                                                                                                             – Jenny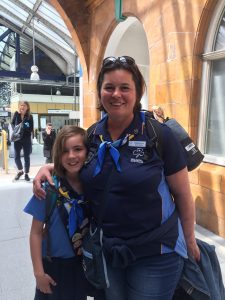 Both Jenny and Sofia said farewell to their new international friends and departed Pax Lodge, very motivated to visit and explore other World Centres, and hoping during their stay in Europe to visit Our Chalet in Switzerland.

Jenny is a Girl Guide Leader from Queensland who is now – and at the time of the camp – living in Italy with her daughter Sofia.
Sofia is currently an active member of Qld Lones Guides whilst living abroad.
* Brownies is the name used in the UK for young Girl Guides.