International Centres Day
Over the weekend of the 10th-12th of July, 6 volunteers participated International Centres Day, an annual competition run between members of the Goose Network (a web of Scout/Guide Centres across Europe) on behalf of Our Chalet. Our virtual team consisted of members from Ireland, UK, Australia and the USA and we had to work together to complete activities from a variety of topics. These included (but weren't limited to) song writing, shelter building and creating a time capsule.
As an international group we had to navigate different time zones, with a limited window each night (Australia time) where we were all awake and able to catchup on the platform ZOOM. We each had to take responsibility for working on several tasks whilst people were asleep and be able to efficiently communicate what still needed doing for others to pick these up/finish off as they awoke. As the only team working remotely, we also had to think creatively for tasks that would normally involve interaction with others, such as fitting 10 people onto 1 square metre (see photo below).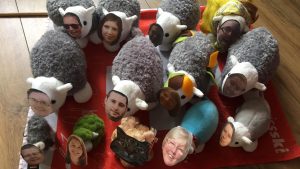 At the end of the event we were the only centre to complete all the challenges, gaining us an extra 10 points and an overall score of 44, just two points shy of a perfect score. As the winners of ICD 2020, Our Chalet will now be responsible for hosting next year's event and our team is looking forward to contributing ideas towards this. We had a lot of fun and appreciated the somewhat unique opportunity to volunteer for Our Chalet in a time where most of us are unable to physically travel there.
I would like to thank the other volunteers for all their hard work and enthusiasm over the weekend, and Rita for being our on-site contact. They have made my work as team leader very easy!
Anna Finster (Australia), Our Chalet ICD Team Chair