Happy World Thinking Day 2019
HAPPY WORLD THINKING DAY to all Girl Guides and to the many women in our community who have been a Girl Guide during their lifetime!
World Thinking Day is 22nd of February every year. It is a day to celebrate the opportunities Girl Guiding gives girls and young women to be the best they can be. With 10 million members in 150 countries around the world there will be a lot of celebrating today.
The theme for World Thinking Day 2019 is LEADERSHIP. Girl Guides are LEADERS and have been practising their leadership skills for the past 110 years when a determined group of girls wanted to share in the fun with the Boy Scouts at the Crystal Palace Rally in 1909! By giving girls the opportunity to develop leadership from a very young age, Guiding supports them to take the lead in their lives, inspire others and create positive change.
To all who have been a Girl Guide leader – today we say thank you for your commitment, dedication and for making a difference to the lives of so many girls and young women.
To all our current Girl Guide leaders – we say thank you for being instrumental in providing opportunities for girls and young women across Australia to grow in confidence and life-skills, build their leadership skills and empower them to be amazing!
Girl Guides is building leaders for today and tomorrow.
Happy World Thinking Day!
Rosemary Derwin
Chief Commissioner
Girl Guides Australia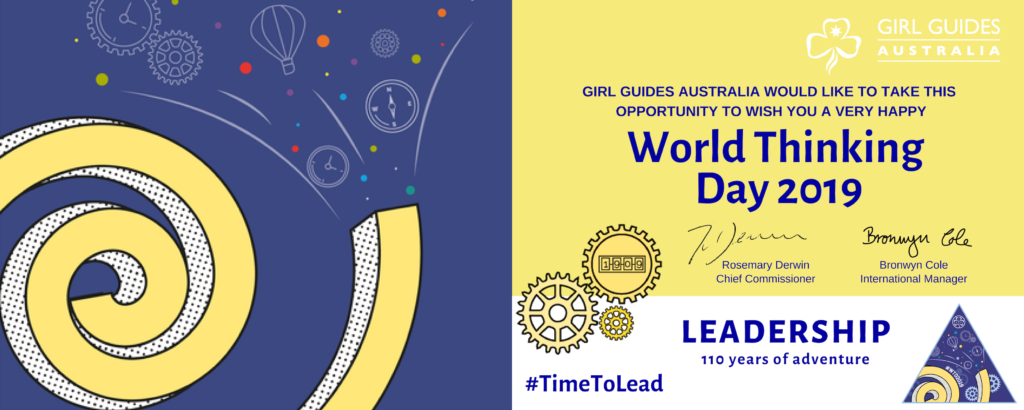 To find out more about World Thinking Day please visit HERE