We want you! Be part of the Juliette Low Seminar in 2019!
Australian Closing Date: 18/01/2019
Aged 20-30 then be part of the Juliette Low Seminar!
#JLS2019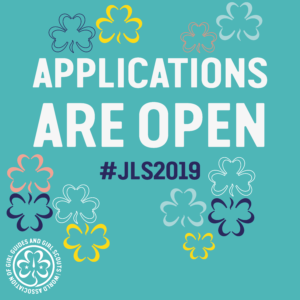 JULIETTE LOW SEMINAR 2019

Girl Guides Australia is looking for a number of young women to attend the Juliette Low Seminar (JLS) in global hubs (to be announced).

JLS has been running since 1932 as WAGGGS' flagship international leadership event. It started as an opportunity to promote international friendship and now empowers young women to take the lead in their lives, communities, national organisations and beyond.

This event is back in 2019 and it's bigger than ever. For the first time, the Juliette Low Seminar will connect the world, bringing 1,000 young women together in up to 20 locations around the world, connected through technology.

Throughout the 6-and-a-half-day programme participants will explore how they can actively tackle gender barriers to leadership, and act on their values to bring positive change to their world. After their return home, each JLS participant will, empower 100 girls aged 12 – 18 with leadership practices to build their confidence as everyday leaders.

The programme has two parts:

Part 1: Attend an international event for 6 and a half days with 40 – 60 of your Guiding peers; explore ways to break gender barriers to leadership, develop your own leadership practice and create a plan to reach 100 girls in your local area – all whilst having the adventure of a lifetime.

Part 2: Use your plan to complete your leadership project once you return home, share your knowledge and make an impact.

There will be up to 20 international hubs. Participants will select their preferred locations, and then WAGGGS will match participants to a suitable location. Being flexible and adaptable is a part of the process. Not knowing where you may end up going is also a part of the adventure.

14th – 20th November 2019
Various locations around the world.
Juliette Low Seminar participants should be:

·         An active member of their organisation

·         20 – 30 years old by 30 November 2019

·         Able to understand and communicate well in one of these languages: Arabic, English, French, Mandarin (Chinese), Spanish or Swahili

·         Not have participated in a WAGGGS seminar or a CSW event before

·         Culturally sensitive and opened minded

·         Adaptable – WAGGGS will use your preferences to select your JLS location

·         Willing to undertake new and challenging experiences

·         Mature and responsible global citizens

·         Able to access the internet

·         Eager to develop new leadership skills and support their Association

·         Committed to designing and running a leadership experience in their organisation after the seminar

Event fee (GBP600)

Please note that event pricing is based on current exchange rates and may vary over time.

< includes accommodation, meals, programme, activities>

$1200.00

Cost of flights will vary according to location.  The cost listed here is indicative for planning purposes.
 Up to $2000.00
Overseas component of travel insurance
$85.00
Administration fee
$75.00
International Scarf
$20.00

Some funding may be available however applicants should apply with the understanding that they will be required to contribute significantly to the cost of attending the event.

HOW TO APPLY

APPLICATIONS WITHIN AUSTRALIA WILL BE THROUGH GIRLGUIDE TRAVELLER FOLLOWED BY INTERVIEWS AND REFERENCE CHECKS.  APPLICANTS THAT SUCCESSFULLY RECEIVE ENDORSEMENT FROM GGA WILL THEN COMPLETE THE WAGGGS APPLICATION FORM WHICH WILL BE FORWARDED TO WAGGGS FOR CONSIDERATION.

Together with the application on GirlGuide Traveller, applicants are asked to provide a short video of themselves, telling us about:

1.       Their favourite Girl Guiding memory

2.       How they would go about imagining, planning and implementing a leadership experience for girls aged 12 plus

Format and submitting the video

The video should not exceed three minutes in length.

We can accept a wide variety of formats including MP4, WMV, MOV, AVI etc. The video can be sent as an attachment in an email to international@girlguides.org.au However if the file size of your video is very large (above 20MB) it may be easier to send it by WeTransfer (a free online service for sending large files).