Schoolies @ Sangam
Australian Closing Date: 30/10/2017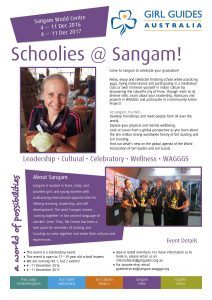 Come to Sangam to celebrate your graduation!
Relax, enjoy and celebrate finishing school while practicing yoga, trying Indian dance and participating in a meditation class or two! Immerse yourself in Indian culture by discovering the colourful city of Pune, through visits to its diverse sites. Learn about your Leadership, Advocacy and projects in WAGGGS and participate in a Community Action Project!
At Sangam, You Will…
Develop friendships and meet people from all over the world.
Explore your physical and mental wellbeing.
Look at issues from a global perspective as you learn about the ten-million strong worldwide family of Girl Guiding and Girl Scouting.
Check out the pdf:  Schoolies @ Sangam