INDIA, Sangam: 'Magic Marsala'
Magic Masala ... personalised visits to Sangam ... creating an individual Indian experience!
Sangam is now offering you the opportunity to create your own Magic Marsala.
'Masala'   …   a blend of spices used to create your favourite meals.
Blend together various Spices  (Sangam Sessions) to create your very own Magic Marsala  program to give you your own personalised Indian experience.
Choose from a wide range of activities including experiencing the culture of India, the history of Sangam, WAGGGS programs, interaction with Sangam's Community Partner Organisations, help in community programs, visit local sites or take a day trip to see more of India.
Activities include:
Sangam Tour
Sangam Shines
Water Tower Climb
Daily Flag Ceremony
Action of Body Confidence
WAGGGS Leadership Mindsets
Yoga
Neighbourhood Walk
Hindi Class
Pune Challenge
Indian Art class
Bollywood Dancing
Indian Family Visit
Community Action Project
Karla and Bhaja Cave Temples visit
Aditti Learning Centre visit …
plus much more!
Download the Magic Masala brochure to find out how you can take part and create your very own once in a lifetime magical visit to Sangam!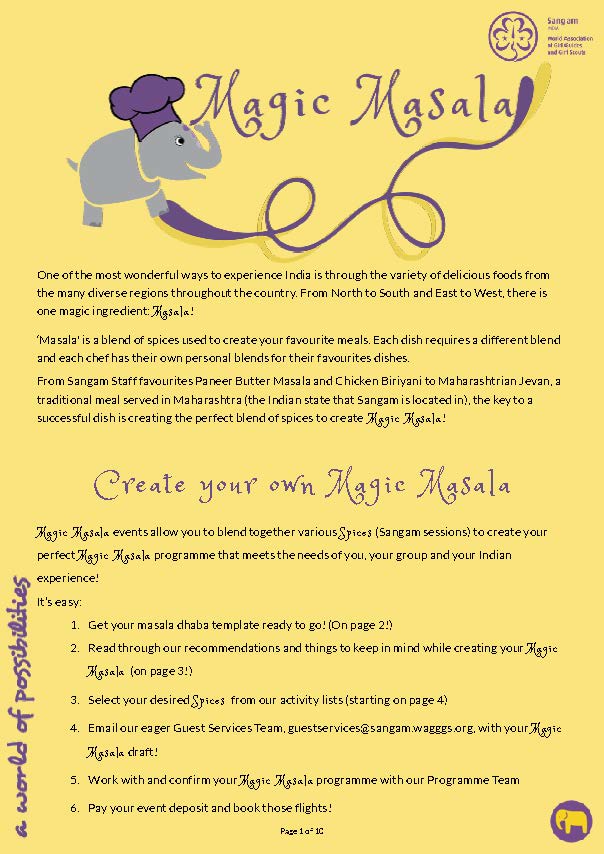 The key to a successful dish is creating the perfect blend of spices to create Magic Masala!