Equal Opportunities: Nicole Lu
"All you need is people to support you and your goals and you can achieve them!"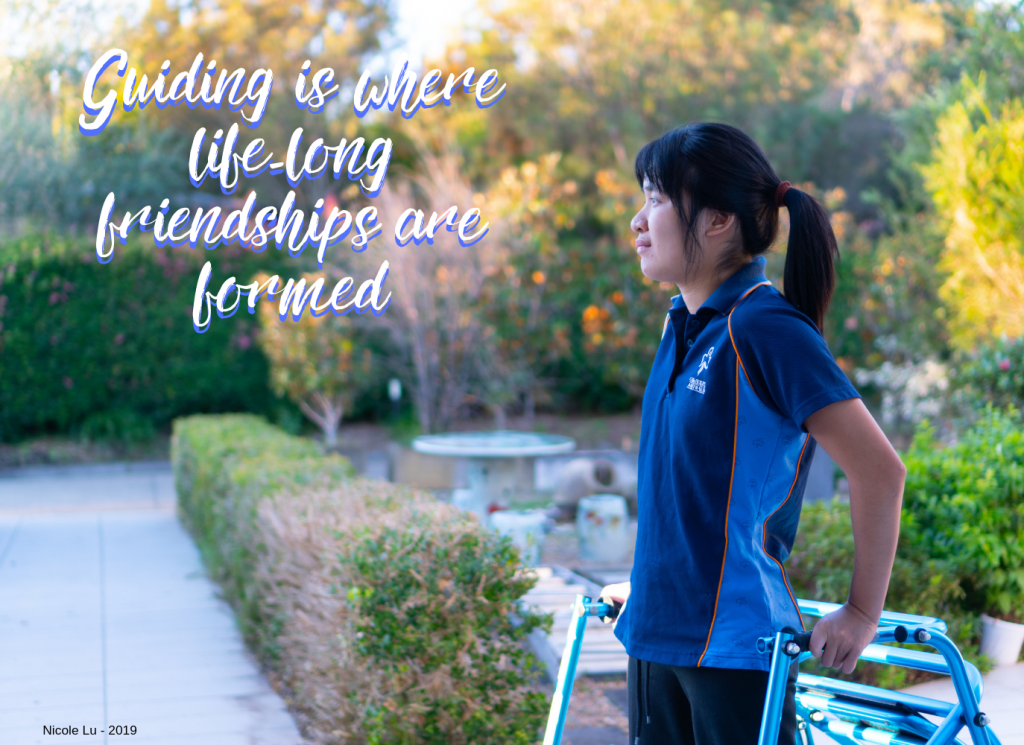 Nicole Lu is a member of Girl Guiding in Australia and her story is about inclusivity.  Nicole shows how we can all work together to have equal opportunities and she highlights the importance of friendship in a supportive environment.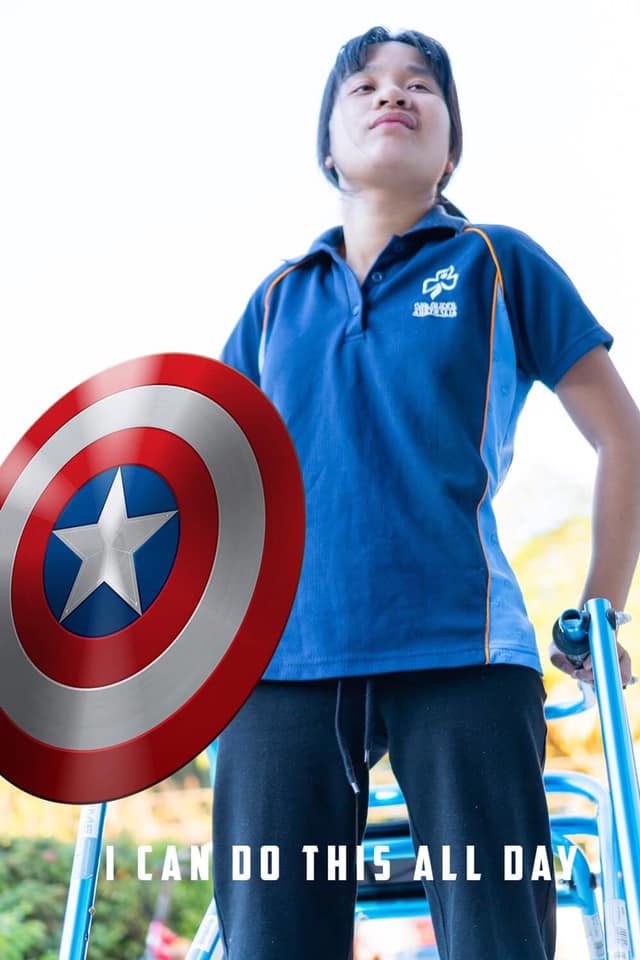 From a very young age, my parents and family – mum especially – encouraged me to make the most of every opportunity that came my way despite having Cerebral Palsy. I've hung on to this thought for so long now, and it has been the reason for many of my unforgettable milestones and experiences. I have Cerebral Palsy; it is a part of who I am – and always will be. However, there is so much more to me than meets the eye.
At the age of sixteen, I was given the opportunity to be part of a program promoting inclusion between students with disabilities and their peers without disability. I took on the role of being the lead student for this group after some encouragement from teachers.  They knew this was something I was passionate about – I still am to this day. Being involved in the program, I gained valuable skills.  Not only did I learn how to lead and work within a team but planning and managing events were amongst the other skills I gained – just to name a few. I was then equipped with my new skills and able to harness them in my role as a YAC member for Advocate for Children and Young People, representing the voices of young people across NSW last year and making a difference within the wider community.  Recently I have become an Ambassador for Cerebral Palsy Alliance; a fantastic opportunity working with an organisation that has supported my family and I over the years and knowing I will be making a difference in other people's lives will be very rewarding.
I never thought I'd be a Guide it was one of those spontaneous things that just happened. Lauren, a Guide herself, briefly talked to me about Guiding before I attended a few Guide nights to see whether it would be something I'd like and sure enough I did! And the rest is history!
What really drew me in to becoming a Girl Guide was their focus on recreational activities to encourage confidence, empowerment and growth. One of the first activities I did in Girl Guides was boating. Their willingness to adapt the adventurous activities for me spoke volumes.  I realised that physical barriers could be broken down and all you need is for people to support you and your goals so you can achieve them.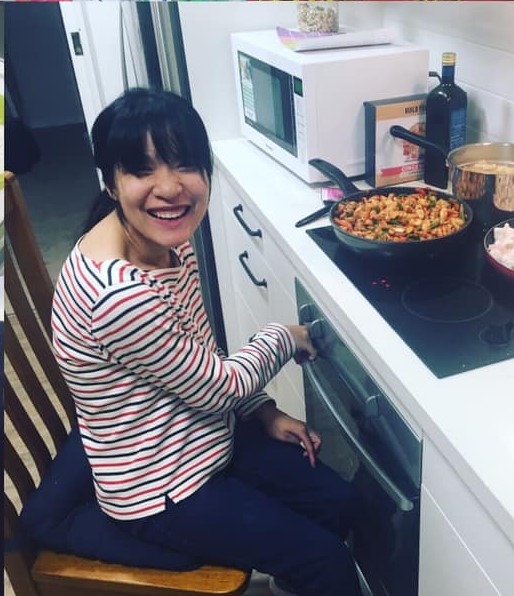 Three years on, I'm now part of the Ku ring gai Olave Program.  Since joining I've also cooked, sewed, camped and road tripped – all possible thanks to my Guiding friends and the wider Guide community.
"Nicole joined our Senior Guide unit and challenged us all to think a little out of the box and tweak activities just a little so we could all take part together.  This has meant upside down school chairs inside canoes, scavenger hunts with piggie backs up and down the train station stairs and setting up a rigging system and hauling her to the top of an abseiling cliff in full body harness and extra support ropes so she could have a go on an abseiling night."  – Lauren
Our June long weekend getaway in Wyangla Dam is an exquisite reminder of why I love Guides. On the Saturday morning a few of us were participating in a Cowra park run and I wanted to get a little taste of the park run so I went along.  I ended up completing half the course in my walker which I can't take full credit for because I couldn't have done it if my friends weren't there with me every step of the way. I completed the lap with them beside me.   As the weekend continued, everyone made sure that I was immersed in all the activities and games – they wanted me to have as much fun as they were having. I'm grateful they see me and not my disability – it means so much.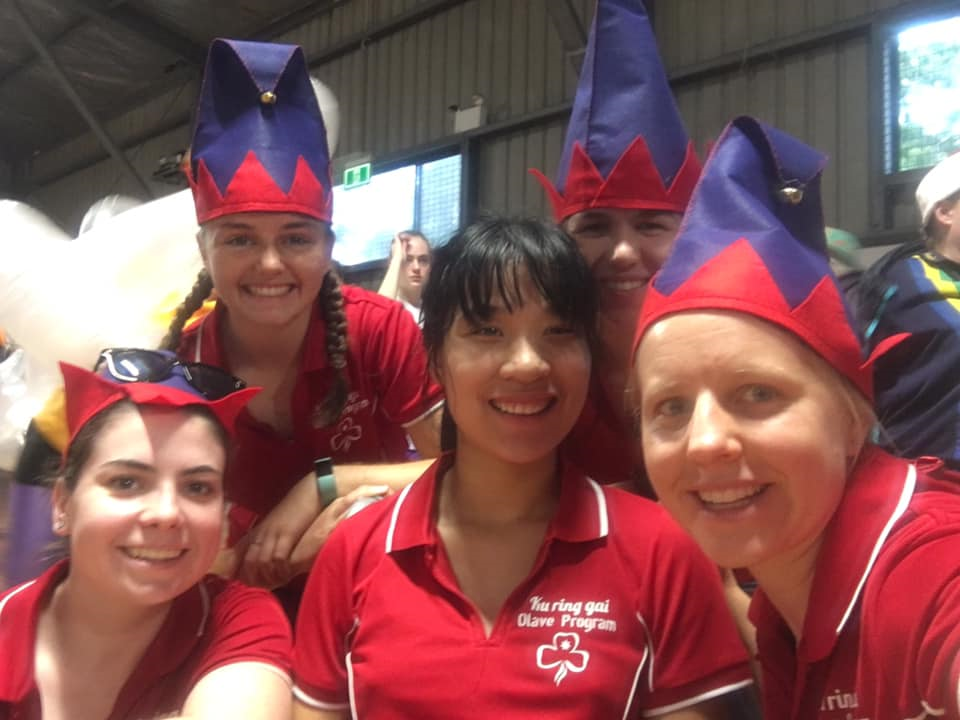 "Having Nicole involved in our unit has been good fun.  Every Olave is individual and Nicole just highlights this. Her involvement has made us appreciate everything Guides has to offer us all, and the flexibility, teamwork skills and friendships that we form that are part of the Guiding experience." – Lauren
After spending another weekend with them I realised that Guides is so much more than developing skills.  Guiding is where life-long friendships are formed and friends you make along the way share the journey you are on as you as learn and grow.
Nicole Lu
July 2019
Cowra Park Run June 2019
Nicole, Lauren, Georgia and Natalie taking part in parkrun at Cowra in June 2019. parkrun – a worldwide community event – offers free weekend 5 km courses which can be done as a run or walk and which are open to everyone.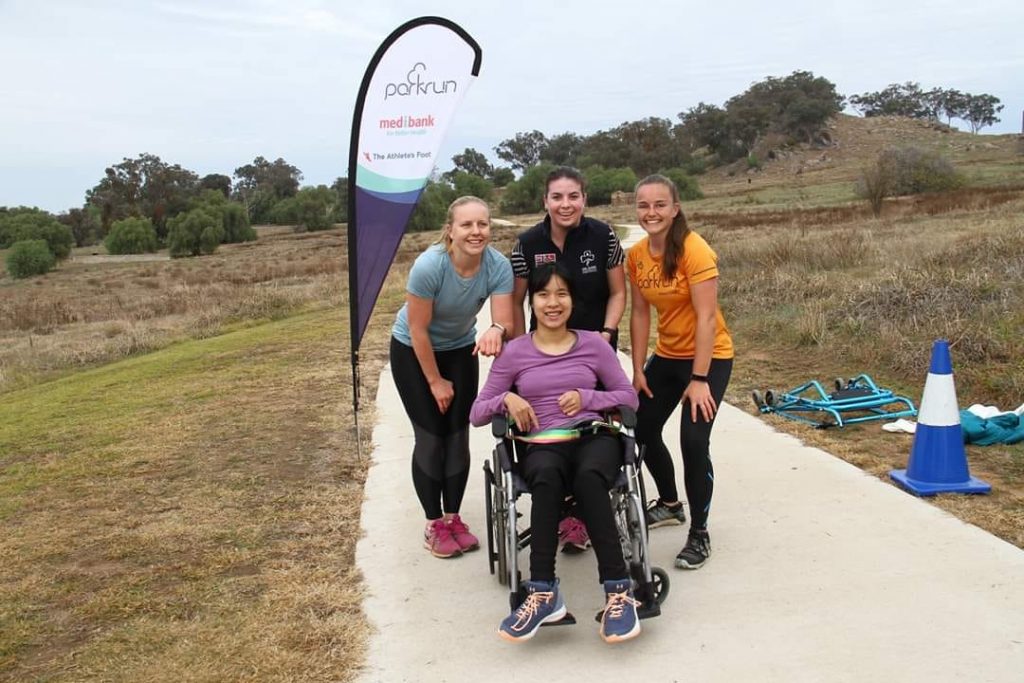 In the words of Cowra parkrun …
"What a great inspiration Nicole was at parkrun.  Nicole has to use a walking aid and wheelchair to get around. Nothing was going to stop her from doing parkrun so Nicole used her walking frame for the first 1.3 km. This included two hills which she climbed before getting into her wheelchair. Nicole conquered 1 lap of our 2 lap course and inspired all of our parkrunners out there.  So if you are thinking you cannot do it, this just shows that anyone can."
Lauren adds, "As Olaves and Guide Units we often try to go to parkrun when we are out and about to challenge ourselves and meet locals in the community!  We have also volunteered at parkrun which is great PR for guides too when the runners see everyone out there in their guide shirts!"