Child Rights Trees
At our Sydney Jamboree, many activities took place throughout the week;  one which is especially resonant with National Children's Week taking place this week, is the 'Child Rights Tree'.
Led by Ashleigh Armstrong, a Girl Guide herself and Leader of a Girl Guide Unit in NSW, the UNICEF activity gave Girl Guides the opportunity to work together to create an image that helped them define child and human rights.
Firstly each group of girls drew a blank tree then they discussed a summary of the Rights of the Child from the United Nations Convention and thought about what children need to live well.  Then all these thoughts were written on the tree in the form of leaves, fruits, flowers, branches and roots to highlight the child's rights and what they need to live in dignity and justice, to grow and to flourish.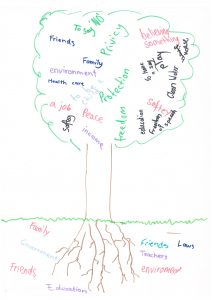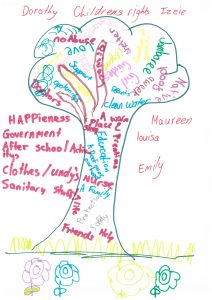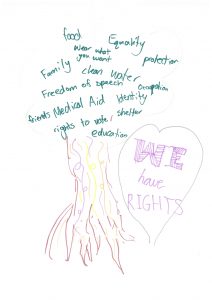 Guides were asked to think about  ..
"If you could tell adults one thing what would it be?"
 "What is something that is important to you?"
 "What do you think decision-makers should do?"
And their replies included  …
"People should have the right to education no matter how disadvantaged they are" – Alice, 14, NSW
"I believe all people in society should have access to education, shelter and clean water as they are basic necessities" – Mya, 15, NSW
"People should be able to say what they feel" – Emily, 11, SA
"Kids are kids and they should be allowed to play and explore what is going on in the world" – Lucy, 12, SA
"We may all be different but we should all be treated equally" – Stella, 12, VIC
"I think that there should be greater access to education for Indigenous and rural communities" – Charlotte, 14, NSW
"Everyone deserves a say even if they're a difference voice" – Caitlin, 14, QLD
"In some countries children are forced to do things they don't want to do. I don't think that should happen" – Maddie, 13, VIC
"Just one small thing can help" – Matilda, 11, NSW
"Every girl has the right to freedom and to feel safe" – Alicia, 12, TAS
"Girls need to feel loved" – Halle, 14, TAS
"Every girl deserves to be empowered" – Charlotte, 13, TAS
"Every child should have the right to live in a healthy environment. There should be somewhere for parents to sort it out. Keep kids out of it." – Kaitlyn, 16, QLD
"Let them be different if they want to be different" – Bethany, 11, SA
Girl Guides Australia would like to thank Unicef Australia for taking part in the Sydney Jamboree and providing such a though provoking and inspiring activity.   If you would like to learn more about UNICEF and their educational tools please visit https://www.unicef.org.au/