Be a part of International Women's Day 2019
#BalanceforBetter Friday 8 March 2019
Better the balance, better the world
International Women's Day takes place every year on 8 March.   It is a day of global significance when we celebrate the social, cultural, political and economic achievements of women worldwide.   It is also a day when we advocate for gender parity.
We are proud to say that WAGGGS (World Association of Girl Guides and Girl Scouts) is – and has been for many years – the Charity of Choice of the International Women's Day website for its role empowering girls and young women to reach their full potential is at the core of Guiding.   WAGGGS and its 150 member organisations is recognised by the International Women's Day website as giving girls the opportunity to develop their leadership skills, speak out on issues that are important to them and make changes in their communities and countries.  Information on this can be found HERE.
This year the theme is "Better the balance, better the world" and is a call out to everyone to play their part to build a gender-balanced world.  The campaign runs throughout the year and is not limited to the actual day; it is a unified way to get collective action and shared responsibility to create a gender-balanced world.   This is just the start of the campaign for gender equality in all walks of life.
And you can join in!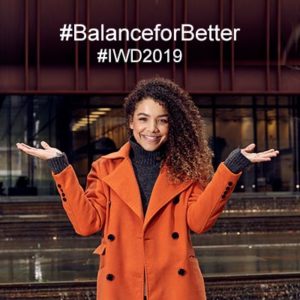 Use the hashtags to promote on Social Media #IWD2019 and #BalanceforBetter 
Share images of you with your "hands out" balance pose
Motivate friends and family to share the message
Use the IWD Selfie Cards
Host your own fundraising event in support of WAGGGS
Find out more information on this year's International Women's  Day HERE