WE DID IT!! #axethetax campaign – GST to be removed from sanitary products
UPDATE:   3 OCTOBER 2018 States and Territories have agreed to the Federal Government's proposal to remove the tax from sanitary products.
Congratulations to all those involved in the supporting this campaign:
Share The Dignity
Jasiri Australia    
Plan International Australia    
One Woman Project   
Victorian Women's Trust   
YWCA Canberra   
WWDA Youth Network   
YWAG ERA   
The Youth Coalition of the ACT   
National Aboriginal & Torres Strait Islander Women's Alliance   
National Union of Students   
The Girls Leadership Network   
her words   
Harmony Alliance: Migrant and Refugee Women for Change    
The Equality Institute
YWCA
Multicultural Youth Affairs Network – MYAN NSW
The Girls Movement
23 July 2018 – Girl Guides Australia are proud to promote the campaign to end taxation on women's menstrual product – #axethetax – and to endorse the Open Letter to politicians throughout Australia.
Young Women Speak Out and Jasiri Australia, part of of Equality Rights Alliance, contacted young women's organisations including Girl Guides Australia for support of this campaign.  Girl Guides Australia has agreed to endorse the Open Letter to all politicians and to assist the campaign with its promotion.
This week the Open Letter is being sent to government officials and will be published through various media outlets highlighting the issue and asking for the removal of the GST on menstrual products.
Share The Dignity have been running the #axethetax campaign and their founder Rochelle Courtenay is one of the organisations endorsing this Open Letter.  Girl Guides Australia who are proud supporters of Share The Dignity have agreed to back this action by endorsing the campaign and by promoting the Open Letter on our website and our Social Media outlets.
This campaign aligns well with WAGGGS'  World Menstrual Hygiene Day campaign, WAGGGS' positions at the UN Commission on the Status of Women and the involvement many individual units have had with Share the Dignity. It also ties into the GGA Empowering Girls & Women- Empowering Humanity statement about the ensuring policies address gender-based discrimination;  more information on the GGA statement can be found HERE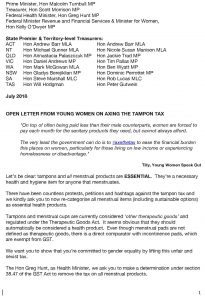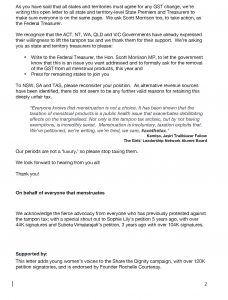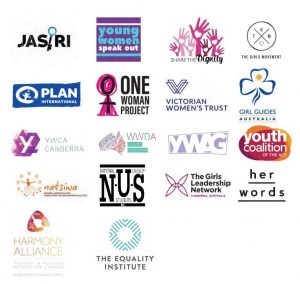 The Open Letter can be downloaded from the button below.
One Response
Leave a Reply