Applying for a Bushfire Relief Fund Grant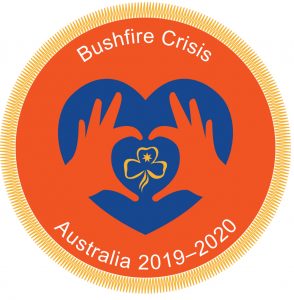 A special Girl Guides Australia badge was designed so Girl Guides, Girl Scouts, individuals and organisations the world over could proudly show they supported those impacted by the bushfires in Australia during 2019 and 2020.
All profits from the badge as well as individual donations went to the Australian Bushfire Emergency Relief Fund, set up by Girl Guides Australia to support communities as they recover following the devastating bushfires in Australia in 2019 and 2020.
The Bushfire Relief Fund's purpose is two-fold:
To support Guides affected by the fires
To fund Girl Guide programs supporting communities to rebuild after the bushfires.
To apply:
Think about practical ways extra funds would assist your district and boost morale as it recovers and rebuilds
Put together a simple budget and plan on how to make this happen
Complete the application form below with these details and the amount you think you need to realistically make that happen. Email it to us at guides@girlguides.org.au
We will get in touch if we need more information or to simply discuss your plan
A decision will be made and we will be in touch.
Please note we are no longer taking online badge orders.
Purchases of the Australian Bushfire Crisis Badges from Girl Guides Australia, required agreement with our TERMS & CONDITIONS of sale.
Also note, the Australian Bushfire Crisis badge is a collector badge and is not to be worn on the Australian Guide uniform.
One Response
Leave a Reply