Australian Bushfire Crisis Badge – Available Now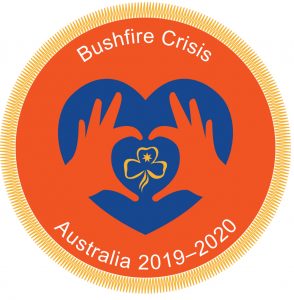 A special Girl Guides Australia badge has been designed so Girl Guides, Girl Scouts, individuals and organisations throughout the world can proudly show they supported those impacted by the bushfires in Australia during 2019 and 2020.
The badges are being sold at AUD$5.00 each plus postage and handling.   All profits from the badge will go to the Australian Bushfire Emergency Fund set up by Girl Guides Australia.
By purchasing the Australian Bushfire Crisis Badge from Girl Guides Australia you are agreeing to our TERMS & CONDITIONS of sale.
Please note that the Australian Bushfire Crisis badge is a collector badge and is not to be worn on the Australian Guide uniform.
IMPORTANT NOTICE:
Due to overwhelming response, we are experiencing longer than usual delivery times.  Please take your receipt as confirmation of your order and we will have your badges sent to you as soon as we can. We thank you for your patience.
For all order enquiries, please do not use the reply comment box below, but instead email us at guides@girlguides.org.au.
Please note from Tuesday 7 April, 2020, we will no longer be taking online badge orders. Please ensure all orders are placed prior to this date.