Board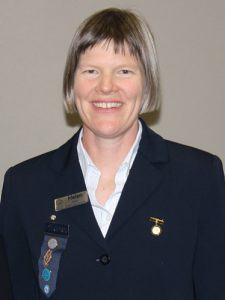 Helen Geard
Chief Commissioner
At the end of 2013, Helen completed a 3 year term as Chief Commissioner for Girl Guides Australia.  Prior to that role she was the Tasmanian State Commissioner for Girl Guides.  On 1 January 2017 she commenced a nine month term as Acting Chief Commissioner / Chair of the Board.
Helen works part time as a Natural Resource Management Facilitator / Project Officer with the Southern Midlands Council in Tasmania working with landholders and the wider to community to achieve positive environmental outcomes.
She enjoys volunteering for a number of organisations including the Royal Agricultural Society of Tasmania, the Uniting Church of Australia, Volunteering Tasmania and the Midlands Tree Committee.
Helen is a graduate of the Australian Rural Leadership Program and is a strong advocate for the important role Girl Guides plays within our community.
Rosemary Derwin
Girl Guides Director – NSW and ACT
Rosemary Derwin has extensive Guiding experience and is the appointed director to the Girl Guides Australia Board from Girl Guides NSW & ACT.  She is a former Assistant Chief Commissioner of Girl Guides Australia and has been awarded the Red Kangaroo for service to Guiding.  Rosemary brings to the Board experience in governance, strategic planning and process and a strong commitment and belief in the fundamental importance of the contribution not-for-profits make to the community as a whole.
Rosemary has been a Director of UN Women (formally The National Committee for UNIFEM in Australia) and was a member of the UN Women delegation to the Commission on the Status of Women in 2007 and 2008.  Rosemary was integral to the establishment of the White Ribbon Foundation.
Professionally, Rosemary has a background in business and financial management and is a director of an award winning financial planning practice.
Janelle Howell
Girl Guides Director – Victoria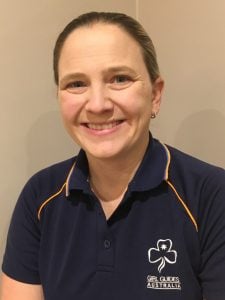 Kate Alcorso
Girl Guides Director – Tasmania
Kate Alcorso is the appointed director to the Girl Guides Australia Board from Tasmania and currently chairs the Board of Girl Guides Tasmania.  Kate is also a leader of Guides aged between 5 and 10 in Launceston, Tasmania, known as the Rainbow Star Guides.  Kate has been a Guide for about 30 years, starting as a 7 year old and keeping going ever since.  In particular, Kate has always taken up the leadership opportunities available to her within the organisation and had served on the Girl Guides Tasmania board prior to her current appointment.
Professionally Kate works as a senior associate lawyer for a Launceston law firm practicising in commercial and estate law, with a particular focus on business transactions.  Kate is a member of the Taxation Institute of Australia and keeps abreast of developments in corporations and taxation law.  Kate has also been involved with other local boards within the community sector.
Kate is passionate about Guiding and seeing the development of the girls in her own Unit.  Guiding has offered Kate personally many opportunities, including attending overseas events, and she is thrilled to contribute to the governance of Guiding in Australia as a member of the Girl Guides Australia Board.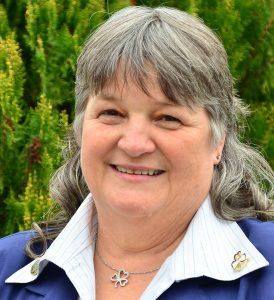 Dawn Borchardt
State Commissioner SA
Dawn is the State Commissioner for Girl Guides SA Inc, leading SA's Guiding volunteers to deliver great Guiding programs for girls and young women.
Dawn has fulfilled several state and national management roles including Program Consultant and Learning & Development Manager; she has had over 20 years' experience in training and is a WAGGGS Facilitator.
Having been involved in Guiding since her youth, Dawn has achieved the Queen's Guide Award, the Olave Baden-Powell Award, the Gold Duke of Edinburgh Award, several leadership qualifications, camping and canoeing qualifications and most recently, GGA's Learning & Development Qualification for Trainers. The fun and learning experiences of youth membership have developed into a love of learning new things, trying them out and sharing with others.
Dawn said, "I love the outdoors and those special experiences like a promise ceremony in canoes on the Murray River or the breathtaking view from the top of the cliff I've just climbed with such a sense of achievement or that very special feeling of Sisters in Guiding that you get from sharing the campfire's glow. I am passionate about young women and the amazing opportunities Guiding offers."
In this new and challenging role, Dawn is really excited about the possibilities and opportunities the future holds.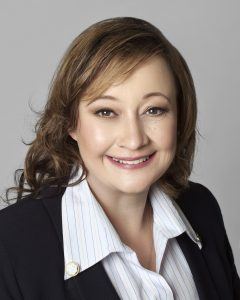 Linda Elezovich
State Commissioner WA
Linda is the State Commissioner for Girl Guides Western Australia.  Working with two units in the Perth Hills aged from 6- 15, Learning Partner and Trainer.  Linda has previous experience as a Region Manager and Region Managers representative to Management.  Being relatively new to Girl Guides Linda is working on increasing Girl Guides profile in Western Australia and is committed to positive Guiding Experiences at unit and State level.
Professionally Linda works as a Safety & Training Specialist.  Working with all industries Linda builds Safety Management systems, develops curriculum and delivers training programs and qualifications.  In addition Linda is the Subject Matter Expert for AVELING for Safety and Emergency advice and develops leadership training to meet the needs of organisations.  Linda holds Advanced Diploma in WHS, Diploma in Business Management, Diploma in Training and Education, Certificate in Psychology and has 30 years' experience in all aspects of Safety Leadership and Training.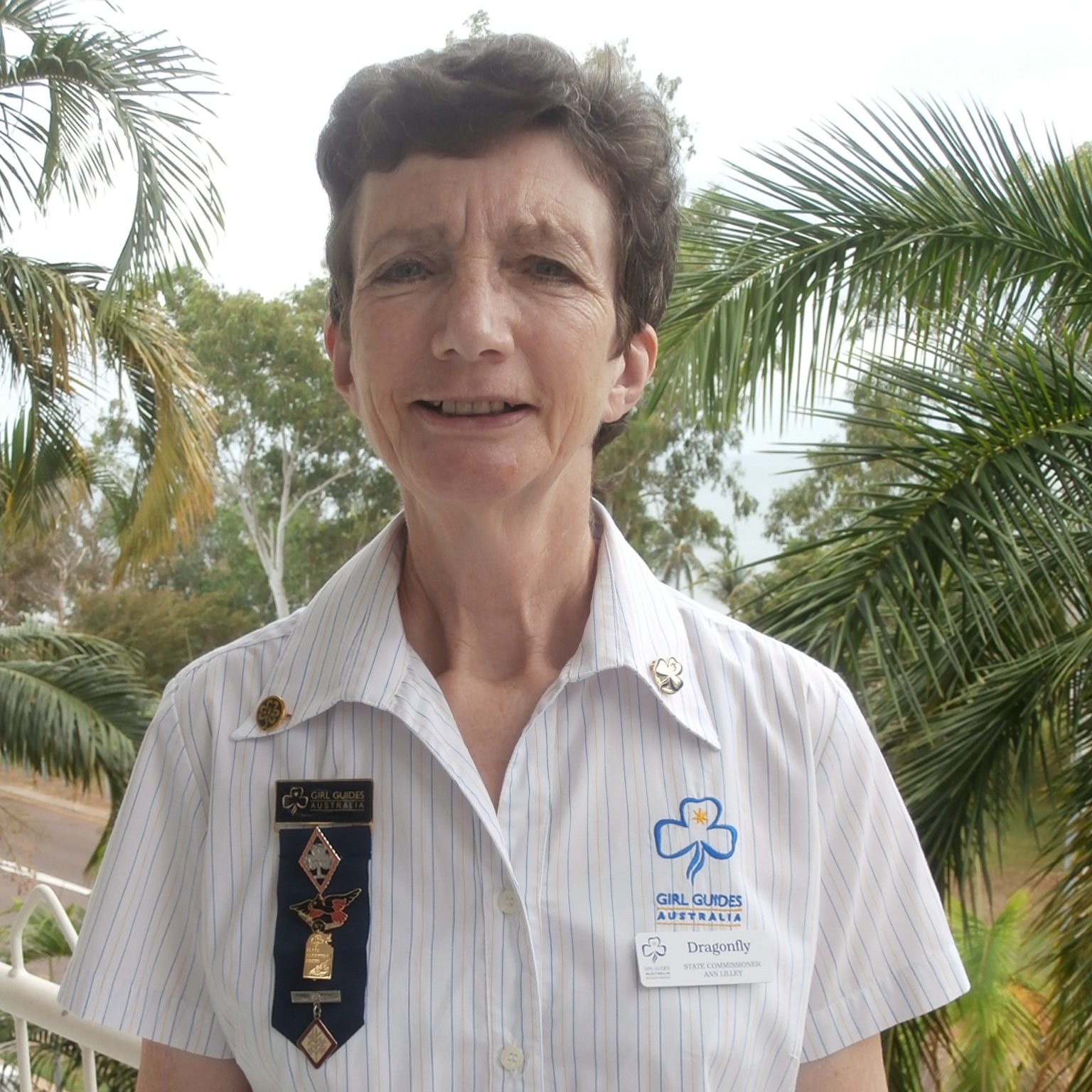 Ann Lilley
State Commissioner NT
Ann has been a member of Girl Guides all her life, starting as a Brownie in the UK. She ran a Guide Unit at first, then a Brownie Unit for many years, until her daughter took over!  She was District, and later Division Commissioner, and was appointed County Commissioner in 2006. She moved to Australia with her husband  just before the launch of centenary celebrations in September 2009 in the UK.
Ann is passionate about the mission of Girl Guides Australia and the opportunities that membership brings to young women.  She is also very keen to celebrate the fantastic challenges and opportunities that are available as a member of the worldwide movement that is WAGGGS.
Membership  is small in Northern Territory across a huge geographical area, and she believes her most important role as State Commissioner since she was appointed mid-2015 is to promote Guiding and to support the fantastic team of Leaders and Managers across the State, as they seek to deliver the Australian Girl Guiding program.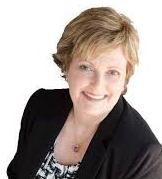 Velia Nicholls
State Commissioner QLD
Velia Nicholls commenced her role as State Commissioner for Girl Guides Queensland in April 2014. Prior to becoming State Commissioner, and Director of GIrl Guides Australia, Velia facilitated the "Working together Project" from 2005 – 2008; has been an MC for a great variety of events and activities both for Girl Guides Queensland and Girl Guides Australia; was a  Member of the Girl Guides Queensland State Council from 2010;Chair of GGQ HR Committee; assistant to the GGQ Outdoors Manager; coach and mentor to national Volunteer Manager. Velia was also Acting General Manager for GGA for an 18 month period and has received an Asia Pacific Award for Excellence in Leadership for her work at GGA .
In addition to her leadership in Australian Guiding, Velia is Director of Courage to Speak a HR and Performance Consultancy based out of Brisbane Queensland.

Janet Torney
Treasurer
Janet Torney is a professional director and strategic management and investment consultant. She has broad non-executive and executive experience in the financial services sector, notably in superannuation, investments and markets, and in the engineering sector.
Janet's business management expertise covers governance, strategy, risk management and change, both operational and cultural. She has extensive investment expertise covering investment governance, strategy, analysis and forecasting, management and advice.
In addition to her role as non-executive director of GIrl Guides Australia, Janet is Chair of Whitehelm Capital, is a Member of the Advisory Panel on Investments & Defined Benefitsfor the Association of Supernnuation Funds of Australia and Principal of JT Consult.
In addition to this breadth and depth of experience, Janet and her family have strong Girl Guide connections. In addition to being Guide, the Torney family and friends established a fund in memory of her mother – Wilma Torney. To this day the Wilma Torney Fund provides support to assist in developing the capacity of Leaders in Australian Girl Guiding.