World Thinking Day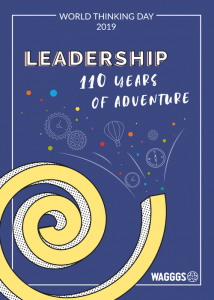 World Thinking Day 2019 – Leadership 100 years of adventure!
World Thinking Day is a day of friendship, advocacy and fundraising for 10 million Girl Guides and Girl Scouts around the world.
Girl Guides and Girl Scouts have been celebrating World Thinking Day since 1926 and it has been an important fundraising day since 1932.   The World Thinking Day Fund collects pennies and coins from members around the world, to support their fellow Guides and Scouts. All donations help fund WAGGGS activities and are used where the need is greatest in our global Movement.
On 22 February each year, Girl Guides and Girl Scouts around the world celebrate World Thinking Day by:
Doing fun and educational activities based around an advocacy theme for the year
Fundraising for the World Thinking Day Fund
Earning the World Thinking Day badge
In 2019 World Thinking Day is dedicated to the group of girls who took the lead in 1909 and demanded Lord Baden-Powell create 'something for the girls'.   By taking part you will be embarking on an adventure through time. You will learn about the history of our Movement, and practise leadership through the chances and choices of our present and future. Be prepared for an exciting adventure! 
To support Guiding communities across the world celebrate World Thinking Day, WAGGGS provide information, education resources and support materials on their website here.
The World Thinking Day activity pack – including how to earn your Thinking Day badge and information about the Thinking Day Fund – is available now and can be found on the WAGGGS website here or can be downloaded as a pdf here.
In Australia, units across our country take this resource and use it to understand the meaning of the key themes, what it means to them and how they can take action and advocate for the issue in their local community.
Girl Guides Australia is keen to hear the stories and news on what activities our Girl Guides and units will be doing on the day – and lead up to this great Guiding day. Send your stories to us via our Facebook page and via our Twitter @girlguidesaust.
Share photos of your time-travelling tasks with Guides and Girl Scouts all over the world on Facebook, Twitter and Instagram using #WTD2019 and #TimeToLead