Strategic Plan 2020
Girl Guides Australia is proud to present its Strategic Plan 2015 – 2020.
"This plan is a powerful statement of our vision for the future" said Girl Guides Australia Chief Commissioner, and Chair of the Board, Robinette Emonson.  "It has been created through extensive consultation throughout Australia with our key stakeholders and I am proud to say that this strategic plan will set up our amazing movement for success."
"I commend the plan, its goals, vision and mission to all of Australian Guiding.
I ask all of Australian Guiding to align themselves and the work that they do, to the outcomes described in the plan and know that GGA is doing all that it can, with all of our partners and stakeholders, to see it realised.
I am also proud to say that we have strengthened  the mission of our movement. We will now empower girls and young women to grow into confident, self-respecting, responsible community members. It was important to the Board that we keep our mission from the past plan which was so loved and well known but, we also heard from many of our members that we needed to strengthen it – which we have by changing the words 'enable', to 'empower'," said Robinette.
The Girl Guides Australia Strategic Plan has been adopted and supported by all State Girl Guide Organisations and provides a strong foundation for the energies and resources of our organisations to better align in order to grow our Movement in Australia.
Vision and Mission
Our Vision for 2020 is to be:
Australia's leading organisation for girls and young women in leadership and personal development
The plan will support the realisation of this vision, by asking us to work to a set of goals and priorities which will drive the organisation to live our mission which is:
To empower girls and young women to grow into confident, self-respecting responsible, community members.
We will achieve this by focusing our energies and resources on our core capability – delivery of the Girl Guide method to girls and young women.
Goals
Our strategy is based around achieving three interconnected goals:
One for our girls – To provide innovative, fun, relevant and high quality non-formal learning for girls and young women
One for our volunteers – To deliver high quality volunteer experiences to the Australian community
One for our organisation – To be an efficient, effective and productive organisation
Built on a foundation of "great people, good governance and a commitment to evolve" our aim is to grow our organisation by 2020 by:
Supporting an increase in the number of youth members by 50%
Supporting an increase in the number of  adult members by 25%
A set of four initiatives will guide our annual business planning process and assist us to transparently measure the outputs of our work.
Our strategy is as follows: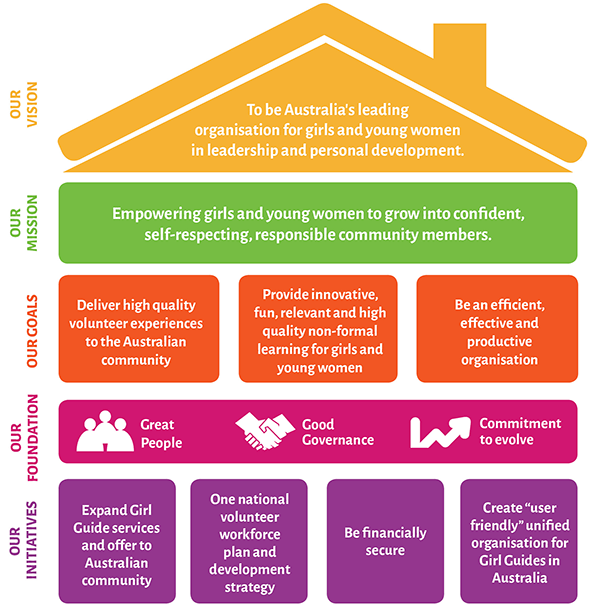 Resources
To support the understanding and communication of the National Strategic Plan for Australian Guiding, GGA has produced some resources which we encourage the membership and stakeholders to use. These resources will be added to over the next few months as we meet with members and colleagues on the plan, and its goals.
Vision
Two posters on the Girl Guides Australia Vision:
GGA Vision Poster High Resolution Full Colour
GGA Vision Poster Low Resolution
Mission
Two posters on the strengthen mission for Girl Guides Australia:
GGA Mission Poster High Resolution Full Colour
GGA Mission Poster Simple Low Resolution
Strategic Plan "House"
Girl Guides Australia Strategic Plan Poster