Business Plan 2016
A summary of key priorities for the year ahead
So what does the year ahead hold for Girl Guides Australia? In addition to the "business as usual" operations with the oversight of Australian Guiding, national events (such as Thinking Day) and the annual Guide Biscuit fundraising campaign, the leadership of Girl Guides Australia is getting on with the job of delivering to our agreed national Strategic Plan.
This brief provides an overview of the national priorities over the next 12 months.
At the last meeting of 2015 the Board of Girl Guides Australia endorsed a Business Plan for 2016 that would see a continuation of the change plan to deliver against three key areas of strategic importance for Australian Guiding.
To provide innovative, fun, relevant and high quality non-formal learning for girls and young women
To deliver high quality volunteer experiences to the Australian community
To be an efficient, effective and productive organisation
Building on 2015
The plan for 2016 builds upon some key foundations for change that were laid down in 2015. These were:
Adapting our strategic vision (creating a new Strategic Plan and undertaking a review of our skills for Governance)
Changing the way that we develop and implement policy and procedures (reforming the way we develop and implement policy and procedure, review of Risk Management and resultant new policy; developing policy for Critical Incidents, Tax, and Privacy)
Undertaking an in-depth investigation into the nature of the Australian Guide Program and the needs of our parents, girls and community (AGP review)
Delivering some key innovations to demonstrate potential future change (Olave Program Resource, Guide Your Money, continuation of Free Being Me, Voices against Violence)
Moving to a new biscuit supplier to grow our annual fundraising campaign
Holding the first full day of national government lobbying activity with "Guiding at the House" in Canberra
---
What is in store for 2016?
Across the three key strategic areas of the National Strategic Plan, Girl Guides Australia in 2016 will:
1. Support the provision of innovative, fun, relevant and high quality non-formal learning for girls and young women.
After final approval of the recommendations from the AGP review, implementation of those recommendations will commence at the start of 2016.  The final report to the Board made 6 clear recommendations for change – three of which will commence in 2016. These are:
Developing clear narratives to communicate who we are and what we offer more effectively to the Australian community. The review told us that what the Australian Guide Program does and achieves is not clear. We need to better communicate what our program does to volunteers, parents, girls and the community.  In 2016 we will work with external expertise to develop clear narratives and strategies to clearly communicate the value and purpose of our program in a way that is suitable for diverse audiences.
Reviewing and updating the Girl Recognition System.The recommendation is that we respond to consistent feedback from Leaders and girls who told us that the current recognition (badge) system is inconsistent, poorly understood and implemented. We will seek to understand this feedback further before defining a new framework for girl recognition.
Renewing the Foundations of the AGP. While there is general support from Leaders for the current Fundamentals, there is also confusion and varying ability to explain the value of these to our stakeholders. The review concluded that an updated, less complex system of Fundamentals can add value for Leaders delivering the Program, create a better platform for more consistent delivery without compromising our commitment to non-formal learning. This year we will seek to redefine the foundations of our program.
2016 will also see us continue to build on the success of programs such as Free Being Me, by trialling and implementing a new Australian-made program on Financial Literacy ('Guide Your Money'). In partnership with some key organisations in gender based violence, GGA will also pilot the WAGGGS program 'Voices against Violence'.
The program team in 2016 will revise some of the current resources, and create some new ones for the use of our Leaders and Guides. GGA will also send a delegation to the WAGGGS Asia Pacific Regional Conference in Nepal.
2. Create better policy, practice and support so that Australian Guiding delivers high quality volunteer experiences to the Australian community.
Aside from implementing a new Risk Management Policy (developed from the review conducted in 2015) the recommendations from the Review of Australian Adult Awards will also be implemented. The Review of Adult Awards recommended the creation of a new framework and approach to our Adult Awards that would make these key sources of recognition for our adult volunteers, more transparent, more consistently awarded, and better understood by Australian Guiding
We will also seek to create better support for our volunteers by seeking an external training provider to create pathways to external formal recognition of our Girl Guide training (in accredited qualifications), as well as create a transparent mechanism whereby our volunteers can see the potential pathways and opportunities to volunteer with our movement. 2016 will also see a review of the GGA uniform and also review (at the governance level) the culture of our organisation.
3. Undertake work to make Australian Guiding an efficient, effective and productive organisation by
A key underpinning challenge that GGA must address is the efficiency and effectiveness of our organisation. 2016 will see the GGA Board lead some significant strategic organisational change programs of work including:
Reviewing and examining the operational model of Australian Guiding (States and National)
Undertaking ongoing reform to our national policies and procedures – to create efficacies where possible, harmonise effort for a consistent experience and ensure that our movement remains current with regulatory requirements and community expectations (including in the areas of child protection, diversity and tax)
Increasing our resource and revenue streams by revising our retail model, developing a corporate partnerships framework and implementing new biscuit fundraising campaign
Updating the IT platform for our increasing dispersed workforce of volunteers and staff
Continuing the implementation of the revised national marketing and communications strategy and branding through a new GGA website and ongoing creation of new marketing and communication policies and programs
Assisting the World Association of Girl Guides and Girl Scouts triennium review of Girl Guides Australia
The work will be overseen by the GGA Board, Board Committees and driven by the activities of the National Management Teams.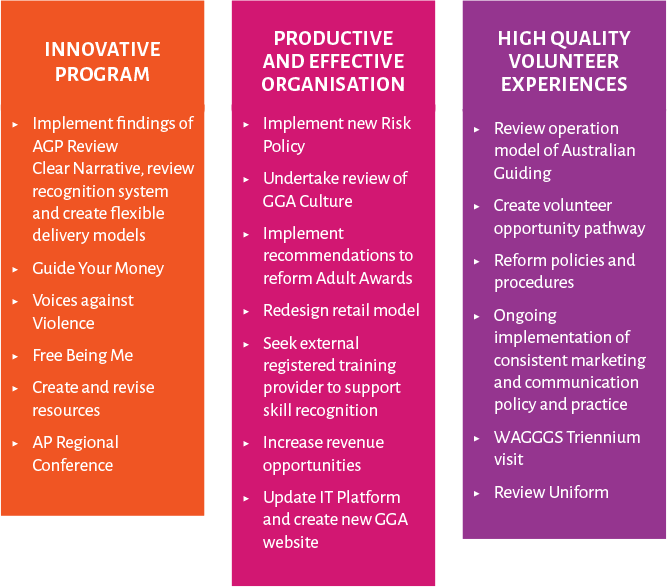 Any queries regarding the 2016 Business Plan or any work of Girl Guides Australia can be raised via the GGA office by calling 02 9311 8000 or emailing admin@girlguides.org.au.